Happy Mother's Day To Godly Mothers – Sunday Thought For The Day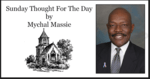 Today is mother's day.  Had my mother lived she would have been 101-years old one month ago.  My mother was a strong, independent Christian woman, who placed a premium upon God and education, which brings me to today's Sunday Thought.
I thank God for my mother, because I didn't chose her, she chose to love and provide for me.  She chose to place only God above me in order of importance.  She chose to endure an extremely difficult delivery to birth me, which as she related to me many years later could have resulted in losing her life.
I thank God for my mother, because she was always there.  She and my father separated and later divorced when I was a year old, because my mother was forward thinking.  She bitterly opposed my growing up in Philadelphia, PA, because as she would tell me years later, it was not the environment she wanted me to grow up in and my father refused to move.  She placed my welfare over her companionship and security.
Being a beautiful, articulate and educated woman she could have elected to put her self-interest first
 and remarried, had more children and made life easier, at least in theory, for herself.  But, that was not the way mom thought.
She chose to devote her life until I graduated from high school to providing me a home and a wholesome life.  She invested her life in me.  Even though she wasn't a touchy-feely kind of person and at times quite difficult to get along with, the one thing I never questioned was her commitment to me.
Suffice it to say, I loved my mother.  She was an example of endurance, provision, and dependence upon God.  In today's culture women like my mother are looked down upon by the illuminati of the cultural-feminists.
But, if there were more women like my mother, there wouldn't be 75 million children selfishly murdered so the women could ignore the responsibility of the consequences for their actions.  If there were more women like my mother, there wouldn't be women in the streets this weekend calling it their right to murder their children.  They would be at home setting a Godly example, being Godly wives and being Christ-centered women.
If there were more women like my mother, they would be attending church today with their families to worship God, not to demonstrate and protest in favor of the Satanic act of murdering their children up to 30 days after they are born.
My mother didn't blame the world or melanin for her life not being easy.  She instead praised God for His blessings.
When I remember my mother, I think of Hannah, the mother of the priest/prophet Samuel.  Hannah made a promise to God.  Unable to have children, she vowed and prayed to God that if He granted her to become pregnant and blessed her with a male child, she would see that the child served Him all the days of his life.
The rest we know.  God heard and answered Hannah's prayer – and she named the child Samuel.  Hannah kept her promise to God and when she had weaned the child, she took the young child to Eli the priest to be raised according to her promise.
If we had more women today committed to raising their children in the fear and admonition of the Lord, instead of killing them as a matter of selfish convenience, they wouldn't have interest in protesting in favor of abortion.
This mother's day let us give thanks to God for Godly mothers that raised children to be obedient to God and to serve Him.
READ:
1 Samuel 1:1-20 KJV
1 Now there was a certain man of Ramathaimzophim, of mount Ephraim, and his name was Elkanah, the son of Jeroham, the son of Elihu, the son of Tohu, the son of Zuph, an Ephrathite:
2 And he had two wives; the name of the one was Hannah, and the name of the other Peninnah: and Peninnah had children, but Hannah had no children.
3 And this man went up out of his city yearly to worship and to sacrifice unto the Lord of hosts in Shiloh. And the two sons of Eli, Hophni and Phinehas, the priests of the Lord, were there.
4 And when the time was that Elkanah offered, he gave to Peninnah his wife, and to all her sons and her daughters, portions:
5 But unto Hannah he gave a worthy portion; for he loved Hannah: but the Lord had shut up her womb.
6 And her adversary also provoked her sore, for to make her fret, because the Lord had shut up her womb.
7 And as he did so year by year, when she went up to the house of the Lord, so she provoked her; therefore she wept, and did not eat.
8 Then said Elkanah her husband to her, Hannah, why weepest thou? and why eatest thou not? and why is thy heart grieved? am not I better to thee than ten sons?
9 So Hannah rose up after they had eaten in Shiloh, and after they had drunk. Now Eli the priest sat upon a seat by a post of the temple of the Lord.
10 And she was in bitterness of soul, and prayed unto the Lord, and wept sore.
11 And she vowed a vow, and said, O Lord of hosts, if thou wilt indeed look on the affliction of thine handmaid, and remember me, and not forget thine handmaid, but wilt give unto thine handmaid a man child, then I will give him unto the Lord all the days of his life, and there shall no razor come upon his head.
12 And it came to pass, as she continued praying before the Lord, that Eli marked her mouth.
13 Now Hannah, she spake in her heart; only her lips moved, but her voice was not heard: therefore Eli thought she had been drunken.
14 And Eli said unto her, How long wilt thou be drunken? put away thy wine from thee.
15 And Hannah answered and said, No, my lord, I am a woman of a sorrowful spirit: I have drunk neither wine nor strong drink, but have poured out my soul before the Lord.
16 Count not thine handmaid for a daughter of Belial: for out of the abundance of my complaint and grief have I spoken hitherto.
17 Then Eli answered and said, Go in peace: and the God of Israel grant thee thy petition that thou hast asked of him.
18 And she said, Let thine handmaid find grace in thy sight. So the woman went her way, and did eat, and her countenance was no more sad.
19 And they rose up in the morning early, and worshipped before the Lord, and returned, and came to their house to Ramah: and Elkanah knew Hannah his wife; and the Lord remembered her.
20 Wherefore it came to pass, when the time was come about after Hannah had conceived, that she bare a son, and called his name Samuel, saying, Because I have asked him of the Lord.
About the Author
Mychal S. Massie is an ordained minister who spent 13 years in full-time Christian Ministry. Today he serves as founder and Chairman of the Racial Policy Center (RPC), a think tank he officially founded in September 2015. RPC advocates for a colorblind society. He was founder and president of the non-profit "In His Name Ministries." He is the former National Chairman of a conservative Capitol Hill think tank; and a former member of the think tank National Center for Public Policy Research. Read entire bio here