A Different Look At Abortion – Sunday Thought For The Day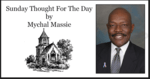 Let's take a different look at abortion.  I believe it safe to say to that regardless of how many women try to spin an excuse, at the end of the day they murder their child out of fear.  Fear of what their parents will say, fear of what the public will say, fear of not being able to compete in an athletic contest, get a job, peer pressure, etc., etc.
Thus it is that the child must be punished for the sins of his/her parents, in brief someone is sentenced to pay for the parental sin.  After all, the punishment for sin is death and it matters not who pays for the mother and father's wrongdoing – as long as someone innocent of the crime takes the rap, if you will.
My idea is that insofar as someone has to pay for the sin of the parents, why not spare the child and let it be Jesus.  After all, is that not the reason for which God gave His only begotten son, so that He might take upon Himself the punishment we deserve for the sin?  Sin that each and every person is deserving of and would receive if Jesus had not paid the price and died in our place.
I know the scoffers and scorners are ridiculing my suggestion right about now.  But consider it this way.  That baby who is selfishly and unimaginably tortured before being murdered by a stranger at the paid request of its parents is going to be in heaven the moment of its last life-beat.  The murderer of the child and its conspirators to commit murder, are guilty and will be sentenced to unimaginable and nonstop cruelty and torment in the lake of fire called hell for the rest of forever without end when they die.  No parole, no work-study programs, no GED and/or college courses to take in an effort to stave off boredom – just time without end of forever with no end of the suffering so horrific that there's no descriptions.
If given the chance, wouldn't a person be crazy not to take advantage of such an offer.  A free offer I neglected to mention.  Why wouldn't the parents of the unborn child, who have solicited a stranger to kill the child for them for a price, take advantage of forgiveness for the crimes they will be sentenced to hell for – unless at some point before they die, they repent and turn to Christ for forgiveness.  But, that doesn't prevent them from the pain of memory for the sin they committed.
Jesus Christ came into the world that the world so that we the condemned to death sinners would have the opportunity of forgiveness by someone else paying the gift of sinless perfection that is required in our place.
Why would a person(s) and the baby's killer insist on paying the price for their sin themselves, when they can have the only payment that God will accept as a "paid in full" stamp for their sins?
Scorners and scoffers alike are free too ridicule, but the devil knows just as every truly born again Christian knows, that the only payment he can exact for sin is eternal damnation.
Imagine the irony, the murdered child will sit in the presence of the Lord comfortable in indescribable splendor while its killers will suffer in hell.  If someone must pay the price for our sins, wouldn't you rather have it be Jesus Christ, so you can spend eternity in heaven?  It won't cost you anything – the price has already been paid.  It's just a thought; God has given us the choice of whether we accept His free gift of redemption or not.
READ:
Romans 5:6-11; 6:23 KJV
6 For when we were yet without strength, in due time Christ died for the ungodly.
7 For scarcely for a righteous man will one die: yet peradventure for a good man some would even dare to die.
8 But God commendeth his love toward us, in that, while we were yet sinners, Christ died for us.
9 Much more then, being now justified by his blood, we shall be saved from wrath through him.
10 For if, when we were enemies, we were reconciled to God by the death of his Son, much more, being reconciled, we shall be saved by his life.
11 And not only so, but we also joy in God through our Lord Jesus Christ, by whom we have now received the atonement.
Romans:
6:22-23 KJV
22 But now being made free from sin, and become servants to God, ye have your fruit unto holiness, and the end everlasting life.
23 For the wages of sin is death; but the gift of God is eternal life through Jesus Christ our Lord.
About the Author
Mychal S. Massie is an ordained minister who spent 13 years in full-time Christian Ministry. Today he serves as founder and Chairman of the Racial Policy Center (RPC), a think tank he officially founded in September 2015. RPC advocates for a colorblind society. He was founder and president of the non-profit "In His Name Ministries." He is the former National Chairman of a conservative Capitol Hill think tank; and a former member of the think tank National Center for Public Policy Research. Read entire bio here