A Few Questions For Christians – Sunday Thought For The Day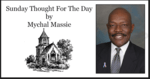 Why is it okay to arrive late for church every Sunday, but not okay to arrive at our place of employment late? Shouldn't we show God the same commitment for being on time that we show sinful man?
Why do people who say they are Christians think it is no big deal to miss church for a sporting event, because their daughters have to sell Girl scout cookies or their sons have a Boy Scout commitment? And, what does that tell our children about the importance of church?
Why do people place a higher premium on spending extra time in bed than they do coming to church early to gather with the pastor and other church members around the altar for prayer before service starts?
Why do we not faithfully tithe? Do we not believe God will supply, i.e, meet our every need if we put Him first – especially with our tithing?
Why do we see people who profess to be Christians walking into church with dour, defiant and angry expressions on their faces? Expressions they manage to maintain through the entire service.
Do we go to church because we think it is the thing to do, allowing that we do not have something else we want to do that morning or do we go to church to worship God, to receive sound biblical preaching/teaching and embrace the fellowship of brothers and sisters in Christ?
Why is not okay to go to work without the things we need to perform the job we are paid to do, but it is okay to come to church without our bibles?
These are simple questions, but how we answer them will tell us a lot about our true reverence for God.
READ: Psalm 100 (KJV)
1 Make a joyful noise unto the Lord, all ye lands.
2 Serve the Lord with gladness: come before his presence with singing.
3 Know ye that the Lord he is God: it is he that hath made us, and not we ourselves; we are his people, and the sheep of his pasture.
4 Enter into his gates with thanksgiving, and into his courts with praise: be thankful unto him, and bless his name.
5 For the Lord is good; his mercy is everlasting; and his truth endureth to all generations.
About the Author
Mychal S. Massie is an ordained minister who spent 13 years in full-time Christian Ministry. Today he serves as founder and Chairman of the Racial Policy Center (RPC), a think tank he officially founded in September 2015. RPC advocates for a colorblind society. He was founder and president of the non-profit "In His Name Ministries." He is the former National Chairman of a conservative Capitol Hill think tank; and a former member of the think tank National Center for Public Policy Research. Read entire bio here