A Great Deception – Sunday Thought For The Day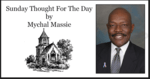 One of the great deceptions in Christendom today is that God answers every prayer we throw out. Satan has deceived many through the craftiness of false teachers, and also through biblical illiteracy. One of the greatest lies/deceptions is that we go to God with our laundry list of prayers and He answers them. I'm sorry to disappoint those who think this way, but that's no more true than the other great lie/deception, which is: "God helps those who help themselves."
We hear sermons where "surrender" to the Lord preached. We hear and have no doubt heard many believers talk about being "surrendered" to the Lord. We often prayed asking God to guide our steps or said: "Amen, pastor that's what I believe," when the Sunday morning sermon was about the steps of a righteous man being ordered by the Lord?
In the Lord's prayer, the first petition is: "Thy Kingdom come." But the second petition is: "Thy will be done…" (Matthew 6:10 KJV) This is the surrender of our lives to God in acknowledgment that He knows what is best for us, and will always provide the same for us and through us.
Truly faithful Christians who desire God's perfect will for their lives understand the necessity to surrender our way unto the Lord. There are many reasons for us not understanding the truth of "surrendering our way unto the Lord," but the most common is that we do not understand what this means.
Look at the world in which we live today. Can we honestly and truthfully say we prefer the will of man over the will of God? Do we really want to trust the fallen nature of man to make things right in our lives and the world?
God's way is perfect, and His desire for us far exceeds the goodness that we desire for ourselves. When we pray "Thy will be done" oh Lord; we must do so with the belief that we will see the glory, goodness, and provision of the Lord in a way that may or may not be exactly what we want or the way we want, but that will always be what is best for us to the glory of God.
Jesus prayed: "Father if thou be willing, remove this cup from me: nevertheless, not my will but thine be done." (Luke 22:42 KJV) What hope of salvation would you and I have today if God had answered Christ's prayer to "remove" the cup of suffering He was about to endure? The Apostle Paul tells us that he "besought the Lord thrice," i.e., prayed three times asking the Lord to remove the "thorn in his flesh" to which the Lord replied that His grace was sufficient. (2 Corinthians 12:8,9 KJV)
Christ our Lord and Savior surrender His will to the Father when He said: "O my Father, if this cup may not pass away from me, except I drink it, thy will be done." (Matthew 26:42 KJV)
If we are to be triumphant Christians; if we are to be Christians who live in the power and glory of God, imbued with the fullness/power of the Holy Spirit, we must fully acknowledge the sovereignty of God.
Committing my way unto God and making my every desire and request known to Him, is the way I want to live. I cannot list the times that if I had undertaken to resolve an issue in my life because God did not move fast enough for me the outcome would have been disastrous. If I had moved to take resolving certain situations on my own, I think of the people I would have denied God's blessing of being used in answer to my prayer. And even more harmful, I think would have learned to lean on myself not God; which would have consciously or unconsciously placed me on a level above God, because I would always have in my mind that I can answer my own prayer.
My friends, the Word of God doesn't say He will answer our every prayer, because the fact is, that answering our every prayer may well be out of His will for us and/or others in connection with us. The Word of God does say however, that when we make our petitions known unto the Lord, His peace, which is our assurance will be ours through Christ Jesus.
READ:
Philippians 4:4-9 KJV
4 Rejoice in the Lord always: and again I say, Rejoice.
5 Let your moderation be known unto all men. The Lord is at hand.
6 Be careful for nothing; but in every thing by prayer and supplication with thanksgiving let your requests be made known unto God.
7 And the peace of God, which passeth all understanding, shall keep your hearts and minds through Christ Jesus.
8 Finally, brethren, whatsoever things are true, whatsoever things are honest, whatsoever things are just, whatsoever things are pure, whatsoever things are lovely, whatsoever things are of good report; if there be any virtue, and if there be any praise, think on these things.
9 Those things, which ye have both learned, and received, and heard, and seen in me, do: and the God of peace shall be with you.
About the Author
Mychal S. Massie is an ordained minister who spent 13 years in full-time Christian Ministry. Today he serves as founder and Chairman of the Racial Policy Center (RPC), a think tank he officially founded in September 2015. RPC advocates for a colorblind society. He was founder and president of the non-profit "In His Name Ministries." He is the former National Chairman of a conservative Capitol Hill think tank; and a former member of the think tank National Center for Public Policy Research. Read entire bio here