A Key Warning and Critical Fact For Believers – Sunday Thought For The Day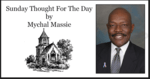 The Apostle Paul tells us: "For we wrestle not against flesh and blood, but against principalities, against powers, against the rulers of the darkness of this world, against spiritual wickedness in high places." (Ephesians 6:12 KJV)
This is not only a statement of fact; it is also a critical warning to be aware of the existence and proximity of the unseen manifested evil that surrounds us every day of our lives. It's the formal pronouncement that we are in a war every day of our lives on earth with entities that have one purpose; one objective; and that is to destroy our testimony and us by dragging us deeper and deeper into sin and thus away from Christ Jesus.
It's for this reason that Paul tells us: "Finally, my brethren, be strong in the Lord, and in the power of his might." (Ephesians 6:10 KJV) Note that there are two key directives in this verse: 1) "be strong in the Lord"; 2) "and in the power of His might." We are strong in the Lord because of the cleansing blood of Jesus, and the indwelling Holy Spirit.
But with that we are instructed: "put on the whole armour of God," without which we cannot stand "against the wiles of the devil." And therein my brothers and sisters in Christ, is the primary causal factor for the spiritual defeat of so many. (See: Ephesians 6:11 KJV)
There's a direct order of preparation and preparedness; but there is also a direct order of how we are to proceed. We are to proceed by being "strong in the Lord and the power of His might."
Those who claim the name of Jesus Christ as their Savior and Lord, must not ever, even for a moment, lose sight of the fact that we are in a mortal spiritual battle. The moment we lose sight of that fact, we have lost sight of the enemy and he through his minions has succeeded in leading us into compromise, weakness, and defeat. Our victory is in Christ Jesus; our power is in the Holy Spirit and our strength, trust, and confidence is in God.
READ:
Ephesians 6:13-18 (KJV)
13 Wherefore take unto you the whole armour of God, that ye may be able to withstand in the evil day, and having done all, to stand.
14 Stand therefore, having your loins girt about with truth, and having on the breastplate of righteousness;
15 And your feet shod with the preparation of the gospel of peace;
16 Above all, taking the shield of faith, wherewith ye shall be able to quench all the fiery darts of the wicked.
17 And take the helmet of salvation, and the sword of the Spirit, which is the word of God:
18 Praying always with all prayer and supplication in the Spirit, and watching thereunto with all perseverance and supplication for all saints;
About the Author
Mychal S. Massie is an ordained minister who spent 13 years in full-time Christian Ministry. Today he serves as founder and Chairman of the Racial Policy Center (RPC), a think tank he officially founded in September 2015. RPC advocates for a colorblind society. He was founder and president of the non-profit "In His Name Ministries." He is the former National Chairman of a conservative Capitol Hill think tank; and a former member of the think tank National Center for Public Policy Research. Read entire bio here