A Message Not Preached Enough – Sunday Thought For The Day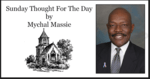 A message that is not preached and/or taught enough in most churches today, and for that matter hasn't been preached and taught enough in a very long time, is the message of surrender.  I believe that is because surrender to God is based upon obedience to God.
Surrendering to God means being obedient to God.  But, how can we be obedient when we refuse to surrender?
If we truly love God, we will be obedient to His Word.  If we are obedient to His Word, it means we are surrendered to His will.  But we cannot surrender if we do not first submit to the primacy of God; and we cannot submit unless we first commit to having a proper relationship with God, which we cannot have unless we surrender by desiring to be obedient in all things.
Addressing the subject of "absolute surrender", Andrew Murray in his text commentaries references George Müller: "What did he say he believed to be the secret of his happiness, and of all the blessing which God had given him? He said he believed there were two reasons. The one was that he had been enabled by grace to maintain a good conscience before God day by day; the other was, that he was a lover of God's Word. Ah, yes, a good conscience is complete obedience to God day by day, and fellowship with God every day in His Word, and prayer – that is a life of absolute surrender. … Such a life has two sides – on the one side, absolute surrender to work what God wants you to do; on the other side, to let God work what He wants to do."
May we say and mean from the depth of our being: "O God, I accept Thy demands. I am thine and all that I have. Absolute surrender is what my soul yields to Thee by divine grace."
READ:
Psalm 84 KJV
1 How amiable are thy tabernacles, O Lord of hosts!
2 My soul longeth, yea, even fainteth for the courts of the Lord: my heart and my flesh crieth out for the living God.
3 Yea, the sparrow hath found an house, and the swallow a nest for herself, where she may lay her young, even thine altars, O Lord of hosts, my King, and my God.
4 Blessed are they that dwell in thy house: they will be still praising thee. Selah.
5 Blessed is the man whose strength is in thee; in whose heart are the ways of them.
6 Who passing through the valley of Baca make it a well; the rain also filleth the pools.
7 They go from strength to strength, every one of them in Zion appeareth before God.
8 O Lord God of hosts, hear my prayer: give ear, O God of Jacob. Selah.
9 Behold, O God our shield, and look upon the face of thine anointed.
10 For a day in thy courts is better than a thousand. I had rather be a doorkeeper in the house of my God, than to dwell in the tents of wickedness.
11 For the Lord God is a sun and shield: the Lord will give grace and glory: no good thing will he withhold from them that walk uprightly.
12 O Lord of hosts, blessed is the man that trusteth in thee.
About the Author
Mychal S. Massie is an ordained minister who spent 13 years in full-time Christian Ministry. Today he serves as founder and Chairman of the Racial Policy Center (RPC), a think tank he officially founded in September 2015. RPC advocates for a colorblind society. He was founder and president of the non-profit "In His Name Ministries." He is the former National Chairman of a conservative Capitol Hill think tank; and a former member of the think tank National Center for Public Policy Research. Read entire bio here