A Microwave Generation – Sunday Thought For Today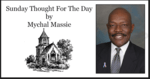 The following is an excerpt from my book, "Alone With Jesus: How I Start Each Day" (2017, Pg. 24/25). 
We've heard it said, that we live in a microwave generation and as such we want everything given to us in a few minutes. That is not just true about food, news, and customer service; it is also, sadly true when it comes to the understanding of many with respect to God and the timing of His answers to prayer.
We want our prayers answered and we want them answered in the immediacy of our dictates. And, when God doesn't respond as we have decided He must, we often will take things into our own hands. And it goes without saying that is a formula for disaster.
We see that when Sarah tired of waiting for God, and decided to take the matter of having a child into her own hands. The world is troubled today by the consequences of her impatience and the decision to take things into her own hands. The world today is troubled by the progeny of Ishmael.
Joseph waited 13 years, Abraham waited 25 years, and Moses waited 40 years before seeing the specific promises God made to them fulfilled. But they never ceased to believe God would keep His promise.
We must always remember that while we are waiting for God to answer our prayers, many times he is preparing us to receive the blessing of His answer to our prayers. It is important to also keep in mind that there are times that God's answer to our prayers, is not answering them as we want and/or believe they should be answered.
Faith is not just believing God will answer our prayers the way we want them answered, but "faith" is also believing God knows what is best for us even when our prayers are not answered as we wanted.
READ:
Psalm 27 KJV
27 The Lord is my light and my salvation; whom shall I fear? the Lord is the strength of my life; of whom shall I be afraid?
2 When the wicked, even mine enemies and my foes, came upon me to eat up my flesh, they stumbled and fell.
3 Though an host should encamp against me, my heart shall not fear: though war should rise against me, in this will I be confident.
4 One thing have I desired of the Lord, that will I seek after; that I may dwell in the house of the Lord all the days of my life, to behold the beauty of the Lord, and to enquire in his temple.
5 For in the time of trouble he shall hide me in his pavilion: in the secret of his tabernacle shall he hide me; he shall set me up upon a rock.
6 And now shall mine head be lifted up above mine enemies round about me: therefore will I offer in his tabernacle sacrifices of joy; I will sing, yea, I will sing praises unto the Lord.
7 Hear, O Lord, when I cry with my voice: have mercy also upon me, and answer me.
8 When thou saidst, Seek ye my face; my heart said unto thee, Thy face, Lord, will I seek.
9 Hide not thy face far from me; put not thy servant away in anger: thou hast been my help; leave me not, neither forsake me, O God of my salvation.
10 When my father and my mother forsake me, then the Lord will take me up.
11 Teach me thy way, O Lord, and lead me in a plain path, because of mine enemies.
12 Deliver me not over unto the will of mine enemies: for false witnesses are risen up against me, and such as breathe out cruelty.
13 I had fainted, unless I had believed to see the goodness of the Lord in the land of the living.
14 Wait on the Lord: be of good courage, and he shall strengthen thine heart: wait, I say, on the Lord.
About the Author
Mychal S. Massie is an ordained minister who spent 13 years in full-time Christian Ministry. Today he serves as founder and Chairman of the Racial Policy Center (RPC), a think tank he officially founded in September 2015. RPC advocates for a colorblind society. He was founder and president of the non-profit "In His Name Ministries." He is the former National Chairman of a conservative Capitol Hill think tank; and a former member of the think tank National Center for Public Policy Research. Read entire bio here