A Personal Record of Crossing The Jordan – Sunday Thought For The Day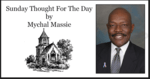 The last sentence of Joshua 4:7 (KJV) reads: "And these stones shall be for a memorial unto the children of Israel forever."
The Jamieson-Fausset-Brown Bible Commentary explains that: "The erection of cairns, or huge piles of stones, as monuments of remarkable incidents has been common among all people, especially in the early and rude periods of their history. They are the established means of perpetuating the memory of important transactions…Although there be no inscription engraved on them, the history and object of such simple monuments are traditionally preserved from age to age…it was that they might be a standing record to posterity of the miraculous passage of the Jordan."
In no less way is it to be with our prayer lists or prayer journals. I keep a prayer list that goes back many, many years. It is a very simple, basic record. I start at the top of a page of paper and I put the date that I placed a specific prayer on the list. I underline the date and place the prayer(s) that I began petitioning the Lord for that date. I do not add to my prayer list every day. At times days, weeks, or longer that I do not add to the list.
I pray through one of the columns each morning and when God answers the specific prayer or meets the specific need I draw a line through it with the date and the answer to my prayer. Sometimes the answer is that a person was healed and in others instances I jot down the date a specific need was met. I have a record of my specific prayers over an extended period of years that I can look back over as a memorial to God's faithfulness and a record of prayers answered, even if the prayer was not answered the way I wanted, e.g., for instance when I was praying for a person to be healed and they passed away.
The point is I have a record or memorial if you will, of God's work in my life that spans years. I have a record of how long I prayed for a person, thing or need.
Prayer lists are our memorials as we've crossed the Jordan Rivers of our life walking with the Lord. They are personal records of our relationship with the Lord. They are personal records that we can look back upon, sometimes to give thanks and other times to remind ourselves that God answers our prayers because we have the memorialized record of it.
If we do not keep prayer lists/journals how do we remind ourselves of God's faithfulness, especially when we are standing on the bank of the Jordan Rivers in our lives and we wonder how we are going to cross over. A prayer list/journal marks all of the other times God has taken us across on dry land.
READ: Joshua 4:1-7 (KJV)
4 And it came to pass, when all the people were clean passed over Jordan, that the Lord spake unto Joshua, saying,
2 Take you twelve men out of the people, out of every tribe a man,
3 And command ye them, saying, Take you hence out of the midst of Jordan, out of the place where the priests' feet stood firm, twelve stones, and ye shall carry them over with you, and leave them in the lodging place, where ye shall lodge this night.
4 Then Joshua called the twelve men, whom he had prepared of the children of Israel, out of every tribe a man:
5 And Joshua said unto them, Pass over before the ark of the Lord your God into the midst of Jordan, and take you up every man of you a stone upon his shoulder, according unto the number of the tribes of the children of Israel:
6 That this may be a sign among you, that when your children ask their fathers in time to come, saying, What mean ye by these stones?
7 Then ye shall answer them, That the waters of Jordan were cut off before the ark of the covenant of the Lord; when it passed over Jordan, the waters of Jordan were cut off: and these stones shall be for a memorial unto the children of Israel for ever.
About the Author
Mychal S. Massie is an ordained minister who spent 13 years in full-time Christian Ministry. Today he serves as founder and Chairman of the Racial Policy Center (RPC), a think tank he officially founded in September 2015. RPC advocates for a colorblind society. He was founder and president of the non-profit "In His Name Ministries." He is the former National Chairman of a conservative Capitol Hill think tank; and a former member of the think tank National Center for Public Policy Research. Read entire bio here