A Prayer Request – Sunday Thought For The Day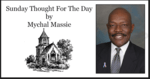 My friends: The following was forwarded to me by my son on February 9, 2019. It is from a person in his office who received this prayer request. "One month ago the family's daughter Katelyn had her appendix burst. Antibiotics to clear infection so doctors can operate and remove rest of appendix have failed. They were going to try and operate today regardless, to save her life–but she might not survive the surgery. You can read more on John Thiel's Facebook–but the main need is immediate prayer."
I personally do not know this family, but this mother's Christ-centered faith and understanding should be a message to us all. I can offer no better "Sunday Thought For The Day." This mother's dependence upon the Lord should be an example to us all. I urge you to remember that God never works in a vacuum. If this family's faith, through their suffering is rewarded with answered prayer, i.e., complete healing for their daughter or if their faith is rewarded by another person or persons being comforted in their hour of tribulation, praise be to God. (2 Corinthians 2:3-5 KJV) Please pray for this family. I would also ask that we pray that through this, someone would come to the saving knowledge of Jesus Christ and accept Him as their Savior and Lord.
BEGIN READING HERE:
It's 4 o'clock. I can't sleep. Katelyn has had a rough night. The eighth IV has failed. Placing the ninth took over an hour and multiple painful attempts. Why is this happening to her? Why must we suffer so much? It's the inevitable question of life, isn't it? At some point each of us is compelled by our circumstances to ask it. For more than a month I have watched my child physically suffer more than anyone this mama has ever had to witness. And yet during this same time I have practically lived with professionals, parents, and patients who have witnessed and endured even far greater and longer suffering than my daughter, and consequently our family, has. A baby died only two doors away. A child has been screaming in agony for the last 4 hours. When I lift my eyes from our particular set of circumstances and consider the whole of humanity, the whole of human history, our trial seems minute by comparison. And yet this month has been nearly unbearable, boundless, like being tossed upon a dark ocean reaching for rescue and grasping only water. Christ made us two guarantees – that we will suffer and that we will live eternally with him. We cannot have one without the other. Sin had to be possible for genuine love for God to exist. Christ had to suffer in order to express His inexhaustible love for us. We were made in God's image, broken, redeemed, and now we must suffer in order to perfect that image. Suffering is not a punishment, it is a discipline – like studying for finals, training for a marathon, practicing a concerto. In all these things we discipline our minds, our bodies, for the exam, the race, the performance. Preparing for eternity is no mean task. The hope of this salvation was accomplished with the greatest of all prices. Why should we expect that the training to lay hold of it would be any less arduous? So I must not ask, why is this happening to me? I must wonder why does this not happen to me more often? "We also exult in our tribulations, knowing that tribulation produces perseverance; and perseverance proven character; and proven character, hope; and hope does not disappoint."
READ: Romans 5:3-5 (KJV)
3 And not only so, but we glory in tribulations also: knowing that tribulation worketh patience;
4 And patience, experience; and experience, hope:
5 And hope maketh not ashamed; because the love of God is shed abroad in our hearts by the Holy Ghost which is given unto us.
About the Author
Mychal S. Massie is an ordained minister who spent 13 years in full-time Christian Ministry. Today he serves as founder and Chairman of the Racial Policy Center (RPC), a think tank he officially founded in September 2015. RPC advocates for a colorblind society. He was founder and president of the non-profit "In His Name Ministries." He is the former National Chairman of a conservative Capitol Hill think tank; and a former member of the think tank National Center for Public Policy Research. Read entire bio here