A Question We Must Answer – Sunday Thought For The Day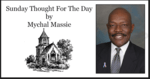 Have you ever really taken time to consider how Satan leads people astray with lies and deceit that we would be alert to, if we spent more time reading and studying God's Word.
Stop for a moment and consider he has convinced atheists that God doesn't exist; but, we read in the Book of Job that God spoke to Satan, demanding that he give account of his actions. (Job 1:6-7 KJV)  Think about it; he is able to deceive people into believing that the very One who created him, threw him and his minions thrown out of heaven; and who in the days of Job at least, required he and others to "present themselves" before Him.
That said, take another look at his deceit in Job 1:8-11 KJV.  His taunt to God was not that Job wasn't "an upright man," but rather that he couldn't attack Job, because God had a hedge of protection around Job.  His plan was if he could taunt God into removing His hedge of protection around Job, he could attack and cause Job to resent God, which would allow him to destroy Job.
But, as we know, Satan failed in all of his efforts against Job.  The Book of Job shows us that the devil failed, because Job's love and obedience to God wasn't based upon what God had given him.  Job's love for and obedience to God, was because his worship and obedience was based upon his reverence for God.
Herein is the question you and I must honestly answer.  Do we love God because of what we have or because He is our God?  This may seem like an easy question to answer when everything is going our way or even when we experience moderate discomfort.  But, let all "what-for" break loose for an extended period of time and then we'll see what kind of relationship each of us has with God.  We'll see if we truly worship and love the Lord because He is our God or because of what we have.
If we love and worship God because He is our God, Satan will never be able to destroy us; at worst he will be able to trouble us for a season of time.  But, if the opposite is true, and we feign love for Him, destruction awaits us.  If we claim to worship the Lord outwardly, but inwardly we are superficially materialistic, valuing stuff, things, and ability to buy more than worshipping God because He is our God – be assured our adversary the devil waits to devour you.
READ:
Luke 12:15;20-21;28-34 KJV
15 And he said unto them, Take heed, and beware of covetousness: for a man's life consisteth not in the abundance of the things which he possesseth.
20 But God said unto him, Thou fool, this night thy soul shall be required of thee: then whose shall those things be, which thou hast provided?
21 So is he that layeth up treasure for himself, and is not rich toward God.
28 If then God so clothe the grass, which is to day in the field, and to morrow is cast into the oven; how much more will he clothe you, O ye of little faith?
29 And seek not ye what ye shall eat, or what ye shall drink, neither be ye of doubtful mind.
30 For all these things do the nations of the world seek after: and your Father knoweth that ye have need of these things.
31 But rather seek ye the kingdom of God; and all these things shall be added unto you.
32 Fear not, little flock; for it is your Father's good pleasure to give you the kingdom.
33 Sell that ye have, and give alms; provide yourselves bags which wax not old, a treasure in the heavens that faileth not, where no thief approacheth, neither moth corrupteth.
34 For where your treasure is, there will your heart be also.
About the Author
Mychal S. Massie is an ordained minister who spent 13 years in full-time Christian Ministry. Today he serves as founder and Chairman of the Racial Policy Center (RPC), a think tank he officially founded in September 2015. RPC advocates for a colorblind society. He was founder and president of the non-profit "In His Name Ministries." He is the former National Chairman of a conservative Capitol Hill think tank; and a former member of the think tank National Center for Public Policy Research. Read entire bio here