A Simple Question – Sunday Thought For The Day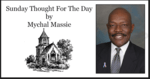 Today's "Sunday Thought" is a simple question, with an even more basic answer, i.e., conclusion. The question is: Who are "you" spending Sunday morning with? We are either spending it with Christ in a house of worship or we are not.
Personal/familial illness excluded. Rotating work schedules that require working a Sunday Sabbath are easily managed by midweek service, even if it is a Church bible study.
There's no time in the history of the world since the resurrection and ascension of Jesus Christ, that His return to gather His own unto Himself in the air, (i.e., rapture) has been more imminent than today.
We stand at the intersection of eternity. Every question that we have ever had regarding how the great tribulation and the "mark of the beast" could come about, is being answered during this period of manufactured global fear and hysteria called "Covid19;" which I am persuaded is the full dress rehearsal for the great tribulation and the revealing of the anti-christ.
I cannot stress strongly enough that God's word is immutable. It is unchangeable. God doesn't say one thing in the Bible and authorize disobedience to it in our daily lives. I can find nowhere in scripture that disobedience to God's Word was given an okay because of fear. As born again Christians, our first allegiance is to God and we are to permit nothing and/or no one to prevent us from obeying God.
READ:
Hebrews 10:35-39 (KJV)
35 Cast not away therefore your confidence, which hath great recompence of reward.
36 For ye have need of patience, that, after ye have done the will of God, ye might receive the promise.
37 For yet a little while, and he that shall come will come, and will not tarry.
38 Now the just shall live by faith: but if any man draw back, my soul shall have no pleasure in him.
39 But we are not of them who draw back unto perdition; but of them that believe to the saving of the soul.
About the Author
Mychal S. Massie is an ordained minister who spent 13 years in full-time Christian Ministry. Today he serves as founder and Chairman of the Racial Policy Center (RPC), a think tank he officially founded in September 2015. RPC advocates for a colorblind society. He was founder and president of the non-profit "In His Name Ministries." He is the former National Chairman of a conservative Capitol Hill think tank; and a former member of the think tank National Center for Public Policy Research. Read entire bio here