A 'Warrior Class' of Believer – Sunday Thought For The Day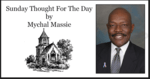 Christendom in America, dies not because evil is so powerful and formidable; but rather Christendom in America has been led astray in weakness and in servitude to wickedness, under the misguided satanic belief that passivity and niceness are synonymous with Godliness.
The Godly leaders of biblical times were a 'warrior class' of "believer, servant, and Christian." That warrior class of leader is what Christendom cries out for today; but biblical illiteracy and biblical atheism has resulted in a crippling of true biblical leadership and Christian living.
Satan has not had to work hard to lead America away from Christ and the Word of God. He simply introduced godless intellectualism to replace God's immutable Word. He has needed only to install in the pulpits and homes those who embrace godless intellectualism, believing same to be biblical erudition.
Even biblical leader of Scripture and modern day leader who stands unapologetically and inflexibly upon the Word of God is attacked not loving their fellow man. That in and of itself is a blasphemous lie of the devil that has been ingested by Christendom in America as life sustaining nourishment.
The truth is however, that if you're wholly committed to living for Christ and obeying the Word of God you will be hated and scorned; and often times by those in your own family and home.
Satan hates the truth. Satan hates those who are wholly committed to Christ. Satan creates opportunities to lead unlearned, malleable, in name only Christians to live compromised lives.
Compromise seldom if ever starts out on a massive scale. It starts out in small almost imperceptible ways.
Here's a test. Do you enjoy being around true believers who are firm and intractable in their embracement of Christ and biblical adherence more than those wwo are not? Do you involve yourself and/or indulge those things that are antithetical to the Word of God? Are you reluctant to invite a certain family or person to your gathering because they always talk about the Bible? Do you get annoyed or embarrassed when people talk about Christ and the proper walk in Christ to strangers in your home that they've never met? Do you believe it is okay for you to not follow a particular part of the Word of God? Disobedience and compromise to God is the way of life if we answer yes to even one of these questions. Compromise leads to weakness and weakness results in powerless Christians.
Which brings me back to the necessity for the warrior class of Christian. Christians must be resolute and inflexible pursuant to that which God proclaims as truth in all areas of life. We must understand that "speaking the truth in love" means the motivation for speaking the truth, it has nothing to do with refusing to speak the truth because said truth might offend someone. A warrior class Christian not only knows and understands that, but they are motivated by same. They understand that refusal to do so, is not only disobedient to the Word of God, but it results in the weak Christianity so emblematic of Christendom in America today.
As for me; I never wanted to just be a Christian who goes to church, tithes, takes a missionary trip, and/or is involved in a social gospel ministry. I wanted to be used of God to speak the truth with boldness at every opportunity.
READ: Hebrews 5:11-14 KJV
11 Of whom we have many things to say, and hard to be uttered, seeing ye are dull of hearing.
12 For when for the time ye ought to be teachers, ye have need that one teach you again which be the first principles of the oracles of God; and are become such as have need of milk, and not of strong meat.
13 For every one that useth milk is unskilful in the word of righteousness: for he is a babe.
14 But strong meat belongeth to them that are of full age, even those who by reason of use have their senses exercised to discern both good and evil.
About the Author
Mychal S. Massie is an ordained minister who spent 13 years in full-time Christian Ministry. Today he serves as founder and Chairman of the Racial Policy Center (RPC), a think tank he officially founded in September 2015. RPC advocates for a colorblind society. He was founder and president of the non-profit "In His Name Ministries." He is the former National Chairman of a conservative Capitol Hill think tank; and a former member of the think tank National Center for Public Policy Research. Read entire bio here