Another Look At The 23rd Psalm – Sunday Thought For The Day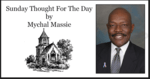 Psalms 23 is one of the best known and perhaps most often referenced Psalms. It is sang in hymn and it the first Psalm many of us learned in Sunday School as children. It is a beautiful and heartwarming portrait of Christ our Lord as our Heavenly Shepherd.
But as I was thinking about this Psalm the past couple of days, it occurred to me that as David composed this beautiful Psalm, he was able to express his emotions and his assuredness in the Lord because he was in a right place with the Lord.
When we are walking in faithful obedience to God it matters not what happens around us, we rest in the arms of our Heavenly Shepherd. When we walk in faithful obedience with God it matters not what storms rage around us we have peace.
Peace is of the Lord. Chaos and insurrection are of the devil. It is a tragic truth that many Christians claim to have peace but in reality absolute chaos rages around and within their personal lives and homes. Often this chaos has pursued their household generation after generation.
Even more tragic; it has been my experience as a minister that this is often accompanied by a belief within the family that everything is okay because they go to church each Sunday; i.e., the family is in denial.
How does this happen we ask? It happens because sin cannot be welcomed into our homes. When we welcome disobedience into our homes, we welcome chaos and familial pain. Today, if you are experiencing chaos and the absence of true Holy Spirit peace – I encourage you to turn to God our Heavenly Shepherd and ask Him what we have invited into our homes and lives that has given the chaos of the devil a place? "A little leaven leaveneth the whole lump." Galatians 5:9 (KJV)
That involves humbling ourselves before God and admitting that we have in fact knowingly or unknowingly provided a comfortable space for Satan's chaos to dwell. When we bow the knees of our hearts to God our Great Heavenly Shepherd, confessing that we need His help in repenting and truly turning to Him, we will experience His peace. It matters not what realities of life beset us, we will rest in the assuredness that: "The Lord is my Shepherd; I shall not want…I will fear no evil…Surely goodness and mercy shall follow me all the days of my life…I will dwell in the house of the Lord forever.
READ: Psalms 23 (KJV)
1 The Lord is my shepherd; I shall not want.
2 He maketh me to lie down in green pastures: he leadeth me beside the still waters.
3 He restoreth my soul: he leadeth me in the paths of righteousness for his name's sake.
4 Yea, though I walk through the valley of the shadow of death, I will fear no evil: for thou art with me; thy rod and thy staff they comfort me.
5 Thou preparest a table before me in the presence of mine enemies: thou anointest my head with oil; my cup runneth over.
6 Surely goodness and mercy shall follow me all the days of my life: and I will dwell in the house of the Lord forever.
About the Author
Mychal S. Massie is an ordained minister who spent 13 years in full-time Christian Ministry. Today he serves as founder and Chairman of the Racial Policy Center (RPC), a think tank he officially founded in September 2015. RPC advocates for a colorblind society. He was founder and president of the non-profit "In His Name Ministries." He is the former National Chairman of a conservative Capitol Hill think tank; and a former member of the think tank National Center for Public Policy Research. Read entire bio here