Answer The Door – Sunday Thought For The Day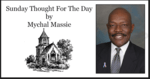 In my life as a Christian; one of the most painful things I have experienced is having family and close friends reject Jesus Christ, who is God's only plan of salvation for the unsaved.  Family and friends who refuse to accept Christ as their Savior, as a causal effect for painful sadness are second only to those family members and friends who think and/or behave as if they're saved, when in fact they are not.  I experience the pain of knowing those in both groups.
I have a childhood friend who has turned completely away from Christ, to the point of refusing to even listen to anything having to do with Christ.  This even though, he has watched his brother, sister, mother, father, uncle, niece, in-laws, and other mutual friends, suffer horrific deaths after living agonizing lives filled with illness.  He has hardened his heart refusing to hear anything about his need for Christ.  He proudly tells us, he no longer believes in Christ.
And then there are close friends who become angry and vituperative when you try to share Jesus Christ and the gospel of salvation with them; which tells me they know they're wrong in their belief, but for whatever reason(s) they refuse Christ.  They would rather risk hell and eternal damnation by pretending to be Christians.
I tell you, there's no such thing as Christian values without having a personal relationship with Jesus Christ.  To believe otherwise is the asinine belief of fools.
If this rejection is heartbreaking for those who are truly saved and love the Lord, how much more painful for God the Father who gave His only begotten Son, to suffer and die on the cross for our sin?
The hearts of those family members and friends that I reference are not unlike the  door depicted by William Holman Hunt in his allegorical painting depicting Revelation 3:20 (KJV) titled: "The Light Of The World."
"Jesus, carrying a lantern, is depicted knocking at a door with no handle on the outside. The door is overgrown with weeds, and the nails and hinges are rusted, implying that the door has never been opened. … The message: it is up to the person on the other side of the door to let Jesus in." (Zelda Caldwell 2/7/2019)
There are two lights shown in the picture. The lantern is the light of conscience and the light around Christ's head is the light of salvation with the door representing the human soul, which cannot be opened from the outside. The bright light over the figure is the morning star, the dawn of the new day, and the autumn weeds and fallen fruit represent old age, i.e., the autumn of life.
As painful as it is to observe family and friends with the door to their soul closed; we must understand that as the Painting depicts there is no handle or knob on the outside of the door for Christ to use to enter in.
The door can only be opened by the owner of the house, i.e., person, to whom it belongs.  Christ knocks, but we must answer and open the door to our heart.  The thought of those close me, whom I love so very much spending eternity in hell sometimes brings tears to my eyes.  Watching them live an example of rejection of salvation through Jesus Christ, their children and grandchildren are at present following grieves me deeply.
But, foolish though their decision be, it's their decision.  We cannot force them to open their hearts to Christ if Jesus Himself won't.  That doesn't mean we stop praying and witnessing.  It means that we cannot force them to accept Him they reject.
For the present we live in the age of grace.  A period of time in which Jesus knocks and pursues us.  But, the day is coming as the Old Testament Prophet Amos prophesied when people will search for the Word and not find it.  Jesus said, the day comes when people will seek Him not find Him.
Precious family and friends who reject so great a free gift.  I pray in Christ's name, you seek the Lord while He may be found.  Amen.
READ:
Revelation 3:20-22 KJV
20 Behold, I stand at the door, and knock: if any man hear my voice, and open the door, I will come in to him, and will sup with him, and he with me.
21 To him that overcometh will I grant to sit with me in my throne, even as I also overcame, and am set down with my Father in his throne.
22 He that hath an ear, let him hear what the Spirit saith unto the churches.
Isaiah 55:6-7 KJV
6 Seek ye the Lord while he may be found, call ye upon him while he is near:
7 Let the wicked forsake his way, and the unrighteous man his thoughts: and let him return unto the Lord, and he will have mercy upon him; and to our God, for he will abundantly pardon.
About the Author
Mychal S. Massie is an ordained minister who spent 13 years in full-time Christian Ministry. Today he serves as founder and Chairman of the Racial Policy Center (RPC), a think tank he officially founded in September 2015. RPC advocates for a colorblind society. He was founder and president of the non-profit "In His Name Ministries." He is the former National Chairman of a conservative Capitol Hill think tank; and a former member of the think tank National Center for Public Policy Research. Read entire bio here