Are You A Biblical Atheist? – Sunday Thought For The Day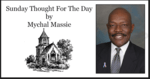 Satan is a liar; he is a deceiver; and through various means he attempts have us to become biblical atheists. The term "biblical atheist" as I have coined it, is a person who has accepted Christ as Savior, but who doesn't stand firm on the promises of God and the truths of Bible, because they are biblically illiterate. The tragedy is, many who are truly saved are biblical atheists, because they don't know the Word of God nor do they understand the Word of God. Rather they lean on their own understanding.
Take for instance what is going on in the world today with the Covid19 flu virus, the rioting, and the instigation of ill-will based upon color of skin.
I have spoken to people who are genuinely afraid right now, and they're amazed that I am not. Some have even asked me how I cannot be afraid? I tell them, it's because fear isn't of the Lord. Fear is of the devil. Its purpose is to make us doubt, then question, and ultimately disbelieve God.
I tell people that in 2 Timothy 1:7 the Apostle Paul reminds us: "For God hath not given us the spirit of fear, but of power, and of love, and of a sound mind." (KJV) In Romans 8:15 Pauls tells us: "For ye have not received the spirit of bondage again to fear; but ye have received the Spirit of adoption, whereby we cry, Abba, Father." (KJV)
In the verse shared from Romans, Paul is essentially reminding the early followers of Christ who were enslaved, tortured, and confronted with unspeakable atrocities, that they weren't alone and that they were the sons/children of the most High God. He was reminding them that as such they could call upon God crying out "Abba Father," which means "Daddy, Daddy;" and because He is our Heavenly Father, He will comfort us and keep us secure.
It is at times precisely such as these of today that we cry out to God to comfort us. It's times precisely such as these, that we stand upon the precious, immutable, and forever promises of God. The Psalmist tells us in Psalms 119:89: "Forever, O Lord, thy Word is settled in Heaven." (KJV)
That means God's Word is unchangeable, which makes His promises unchangeable. Paul wasn't spreading false hope. He was spreading the immutable, i.e. unchangeable assurances and promises of God.
But we can only know the promises of God if we are reading, studying, and meditating upon His Word. I have actually had those who call themselves Christians tell me that they practice yoga for inner peace, blah-blah – then tell me in the same instance they are afraid for the world, which is their way of saying they are afraid for themselves. I shake my head, because they're searching the world of satan for the "Truth," comfort, and security of God.
Jesus, didn't say that He was the "Truth" (John 14:6 KJV) and that we need something else. But biblical atheists are not comforted and assured, because they aren't spending time in the Word of God nor with God. We spend time with God when we are reading and embracing His Word.
Biblical atheists, look outside of God for their comfort. The comfort of God comes from the precious presence of His promises and assurances. We are only aware of this when we're in a proper relationship with God. Born out of that proper relationship is the unwavering belief and understanding that God cannot lie; thus His every promise is true. And, if we like children, embrace those truths we have no need for fear. Because the absolute worst that can happen to us is that we die here and go instantly to Heaven to be with the Lord for eternity.
Satan wants us to abandon God by not reading and studying the Word of God; and by believing that going to church is optional and not necessary to worship God. The problem with that mindset, which many who believe themselves to be saved have bought into, is that God's Word is "unchangeable." Thus, obedience to the Word of God is not optional. God doesn't change what the Holy Spirit inspired the authors of Scripture to write, just to absolve us of being biblical atheists.
READ:
Psalm 119:89-96 (KJV)
89 For ever, O Lord, thy word is settled in heaven.
90 Thy faithfulness is unto all generations: thou hast established the earth, and it abideth.
91 They continue this day according to thine ordinances: for all are thy servants.
92 Unless thy law had been my delights, I should then have perished in mine affliction.
93 I will never forget thy precepts: for with them thou hast quickened me.
94 I am thine, save me: for I have sought thy precepts.
95 The wicked have waited for me to destroy me: but I will consider thy testimonies.
96 I have seen an end of all perfection: but thy commandment is exceeding broad.
About the Author
Mychal S. Massie is an ordained minister who spent 13 years in full-time Christian Ministry. Today he serves as founder and Chairman of the Racial Policy Center (RPC), a think tank he officially founded in September 2015. RPC advocates for a colorblind society. He was founder and president of the non-profit "In His Name Ministries." He is the former National Chairman of a conservative Capitol Hill think tank; and a former member of the think tank National Center for Public Policy Research. Read entire bio here