Are You A Pilgrim or A Resident? – Sunday Thought For The Day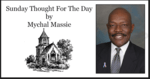 The first six words of Philippians 3:20 (KJV) are a portion of the rock my assurance is staked upon.  They read: "For our conversation is in heaven…"  Ultimately, nothing that takes place in this lifetime as such, has any impact upon me, because this earth is not my home.  It's simply the place I'm occupying and the place where if we're obedient, we advance the Gospel of Jesus Christ and reach people for Him during the time we're here.
Do I like it here?  Yes I do!  But, I keep that in perspective.  And it's especially critical that I not fall prey to the lies of the devil in this the end times.
In this end times period in which we're now living, the enemy of our souls is doing everything he can to distract us from being wholly committed to the work, Word and life of the Lord.  One of the most deceptive tactics the enemy uses is distraction.
This brings me back to the verse in Philippians.
"For our conversation is in heaven…"  The word translated "conversation," signifies, i.e., means, "our city" or "our citizenship."  The two letter word "is" virtually makes me want to jump up and down and shout hallelujah.  It's because, that simple little word in this Greek context represents that "our city" – "our citizenship" actually exists and it exists in heaven.  It means heaven is a real place.
When combined with the rest of the verse: "…from whence also we look for the Saviour, the Lord Jesus Christ."  It's one of the strongest validations of the fact that not only is Christ returning, but He is returning specifically for we the saved.
Joseph Benson, the revered Methodist preacher of old says it best: "…true Christians are of a very different spirit, and act in a quite different manner. The original expression, "politeuma," rendered "conversation," is a word…implying our citizenship, [all] our thoughts, [all] our affections, are already in, [i.e., focused upon] heaven;…we think, speak, and [interact]…with our fellow-creatures, and conduct ourselves in all our [interactions] with them, as citizens of the New Jerusalem, and as being only strangers and pilgrims upon [this] earth. We therefore endeavour to promote the interests of that glorious society to which we belong, to learn its manners, secure a title to its privileges, and behave in a way suitable to, and worthy of our relation to it."
Don't get me wrong.  I genuinely love and I'm massively appreciative for what God has blessed me to enjoy here.  But, I'm a pilgrim here, not a resident.  I don't have time or interest in being fixated upon this fleeting world.  I'm focused upon doing His work in the time appointed unto me to reach people for him.  What He has assured me, we will enjoy in Heaven cannot be described.  It must be experienced to fully grasp the transplendency of all His glory and the New Jerusalem.
READ:
1 Corinthians 2:9-16 KJV
9 But as it is written, Eye hath not seen, nor ear heard, neither have entered into the heart of man, the things which God hath prepared for them that love him.
10 But God hath revealed them unto us by his Spirit: for the Spirit searcheth all things, yea, the deep things of God.
11 For what man knoweth the things of a man, save the spirit of man which is in him? even so the things of God knoweth no man, but the Spirit of God.
12 Now we have received, not the spirit of the world, but the spirit which is of God; that we might know the things that are freely given to us of God.
13 Which things also we speak, not in the words which man's wisdom teacheth, but which the Holy Ghost teacheth; comparing spiritual things with spiritual.
14 But the natural man receiveth not the things of the Spirit of God: for they are foolishness unto him: neither can he know them, because they are spiritually discerned.
15 But he that is spiritual judgeth all things, yet he himself is judged of no man.
16 For who hath known the mind of the Lord, that he may instruct him? but we have the mind of Christ.
About the Author
Mychal S. Massie is an ordained minister who spent 13 years in full-time Christian Ministry. Today he serves as founder and Chairman of the Racial Policy Center (RPC), a think tank he officially founded in September 2015. RPC advocates for a colorblind society. He was founder and president of the non-profit "In His Name Ministries." He is the former National Chairman of a conservative Capitol Hill think tank; and a former member of the think tank National Center for Public Policy Research. Read entire bio here