Asking and Receiving – Sunday Thought For The Day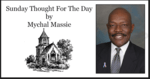 Earlier this week I was reminded of Mark 11:24: "Therefore I say unto you, What things soever ye desire, when ye pray, believe that ye receive them, and ye shall have them." (KJV)  This verse is often misunderstood and even worse, misapplied – especially when it comes to those who subscribe to the errant doctrine of "name it and claim it." 
I like the simplistic exegesis of the verse by Jamieson-Fausset-Brown New Testament commentaries that: "This verse only generalizes the assurance of Mark 11:23; which seems to show that it was designed for the special encouragement of evangelistic and missionary efforts, while this is a directory for prevailing prayer in general."  That said, while I do agree that v. 24 "generalizes the assurance of v. 23;" I also personally believe any explanation of v. 24 is incomplete without reference to Mark's poignant word picture in vv. 20-22 as a foundation.
The errancy of the name it and claim it crowd notwithstanding, I would point those who become frustrated that their pray(s) are not being answered as they want and/or those who pray for selfish, frivolous wants and desires, to James 4:1-3; where v. 3 of the 4th chapter reads: "Ye ask, and receive not, because ye ask amiss, that ye may consume it upon your lusts."
The first two verses of the 4th chapter of James read:  "1From whence come wars and fightings among you? come they not hence, even of your lusts that war in your members? 2 Ye lust, and have not: ye kill, and desire to have, and cannot obtain: ye fight and war, yet ye have not, because ye ask not."  The first two verses of James 4 refer to self interest and selfishness, but have nothing to do with the furthering of God's kingdom nor anything to do with bringing glory, praise and honor to God.  These two verses do not distinguish us from the world we are instructed to be separate from so that we can be used of God, i.e., sanctified unto Him to be used as testimonies to His grace and provision.
In brief; our prayer life and God's response to same is not separate from the condition of our hearts. Whatsoever we are praying about and/or for; James 4:3 makes clear is predicated upon the motivations of our hearts.
We do well to also remember that as my Pastor and brother in Christ and I were discussing some weeks ago; God knows there some things we ask for we cannot handle, i.e., if given to us they will cause us to stumble and fall short in our walk with Christ.  Committing our way unto the Lord doesn't make us robots, it makes us secure and it makes us safe, because God will never, in fact He cannot do anything to betray the trust and faith of those who are His by salvation through Jesus Christ.
My wife and I are independent of the world, but we are dependent upon God in all things and I can tell you there is no better or more secure way to live.  The unsaved disobedient children of Satan cannot make that claim.
READ:
1 John 5:14-15 KJV
14 And this is the confidence that we have in him, that, if we ask any thing according to his will, he heareth us:
15 And if we know that he hear us, whatsoever we ask, we know that we have the petitions that we desired of him.
About the Author
Mychal S. Massie is an ordained minister who spent 13 years in full-time Christian Ministry. Today he serves as founder and Chairman of the Racial Policy Center (RPC), a think tank he officially founded in September 2015. RPC advocates for a colorblind society. He was founder and president of the non-profit "In His Name Ministries." He is the former National Chairman of a conservative Capitol Hill think tank; and a former member of the think tank National Center for Public Policy Research. Read entire bio here