Atheists: The Angry and The Lost – Sunday Thought For The Day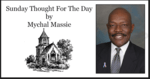 On the one hand I feel sorry for atheists, and yet on the hand I pity them. I feel sorry for them because the best they will ever experience are fleeting and circumstantial moments of gaiety disguised as happiness, and the false sense of peace they strive to experience in their lifetime.
I pity the atheists because they are truly a lost people. They have nothing to live for and they have no "Hope" when they die.
It doesn't matter how hard an atheist works to maintain a belief that there is no God, the truth that God is real and does exist haunts them. That is the reason they fight so hard to convince themselves and others there is no God.
We were created in God's image and we have an innate God consciousness and awareness of a "Creator." That means the atheists can harden their hearts and they can be dismissive, but that only results in them being angry and empty.
The atheists can lie and claim none of those things are true, but that lie will not bring peace. How tragic it is to live one's life without Christ; suffering and enduring all of the realities of life. And then too find out upon your death that God is real and that the Word of God is true.
St. Augustine said: "You have made us for yourself, O Lord, and our heart is restless until it rests in you." Drugs, Alcohol, sexual perverseness, the occult, work, ad nauseum will never sate our need for God.
The fact that death and eternity are always just a breath away, shouldn't we make sure beyond any shadow of doubt that when we die, we will spend eternity with God in heaven.
READ: Revelation 20:11-15 (KJV)
11 And I saw a great white throne, and him that sat on it, from whose face the earth and the heaven fled away; and there was found no place for them.
12 And I saw the dead, small and great, stand before God; and the books were opened: and another book was opened, which is the book of life: and the dead were judged out of those things which were written in the books, according to their works.
13 And the sea gave up the dead which were in it; and death and hell delivered up the dead which were in them: and they were judged every man according to their works.
14 And death and hell were cast into the lake of fire. This is the second death.
15 And whosoever was not found written in the book of life was cast into the lake of fire.
About the Author
Mychal S. Massie is an ordained minister who spent 13 years in full-time Christian Ministry. Today he serves as founder and Chairman of the Racial Policy Center (RPC), a think tank he officially founded in September 2015. RPC advocates for a colorblind society. He was founder and president of the non-profit "In His Name Ministries." He is the former National Chairman of a conservative Capitol Hill think tank; and a former member of the think tank National Center for Public Policy Research. Read entire bio here