Bathing In The Wash of Forgiveness – Sunday Thought For The Day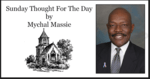 I bathe in the warm wash of God's forgiveness and restoration every day. I know what it is to be forgiven. I also know what it is to backslide. But most importantly, I know what it is to be forgiven and restored.
I may have fallen, but God did not abandon me to myself. What do I mean – God did not abandon me to myself? Simply put it means the keeper of my soul reminded me of what I was doing, why it was sin and what it would ultimately mean if I didn't heed the correction of His Holy Spirit before I fell victim to being swallowed up to sin.
We may stumble; we may even fall, but praise God we have a deliverer. We have a redeemer. And most important of all, we have a Heavenly Father who not only wants to forgive us our sin – He waits to forgive us our sin and heal our broken lives.
Falling and/or backsliding doesn't keep us from God. Being blinded by self-righteousness, defiance and/or willful disobedience keeps us from God. It is the hardening of our hearts and the refusal to turn back to God that will and does keep us from God.
Today if you are a born again child of God who has fallen and/or backslidden, God's warm wash of forgiveness through Jesus Christ is available to you. In fact, God's warm wash of restoration awaits us. We do not have to do repetitive chants or cut our skin or engage in some other sort of extreme behavior as a show of repentance. We just have to turn to God our Father and say: Father I have sinned. I have allowed myself to be blinded by Satan, the prince of this world and I have fallen. Father I ask in Jesus name that you forgive me my sin, defiance and disobedience that led me to this state and restore me to a right relationship with you through Christ Jesus.
My friends falling or backsliding isn't the end. Making peace with our sin, defiance and disobedience is the pathway to the end. Turn back to Jesus. There may be inescapable ramifications for what we have done, but there will be unconditional love and restoration that cannot be denied or taken away. I can tell you that God does not hold our sinful ways against us when we in the name of Jesus: confess, repent and return.
READ: Luke 15:11-24 (KJV)
11 And he said, A certain man had two sons:
12 And the younger of them said to his father, Father, give me the portion of goods that falleth to me. And he divided unto them his living.
13 And not many days after the younger son gathered all together, and took his journey into a far country, and there wasted his substance with riotous living.
14 And when he had spent all, there arose a mighty famine in that land; and he began to be in want.
15 And he went and joined himself to a citizen of that country; and he sent him into his fields to feed swine.
16 And he would fain have filled his belly with the husks that the swine did eat: and no man gave unto him.
17 And when he came to himself, he said, How many hired servants of my father's have bread enough and to spare, and I perish with hunger!
18 I will arise and go to my father, and will say unto him, Father, I have sinned against heaven, and before thee,
19 And am no more worthy to be called thy son: make me as one of thy hired servants.
20 And he arose, and came to his father. But when he was yet a great way off, his father saw him, and had compassion, and ran, and fell on his neck, and kissed him.
21 And the son said unto him, Father, I have sinned against heaven, and in thy sight, and am no more worthy to be called thy son.
22 But the father said to his servants, Bring forth the best robe, and put it on him; and put a ring on his hand, and shoes on his feet:
23 And bring hither the fatted calf, and kill it; and let us eat, and be merry:
24 For this my son was dead, and is alive again; he was lost, and is found. And they began to be merry.
About the Author
Mychal S. Massie is an ordained minister who spent 13 years in full-time Christian Ministry. Today he serves as founder and Chairman of the Racial Policy Center (RPC), a think tank he officially founded in September 2015. RPC advocates for a colorblind society. He was founder and president of the non-profit "In His Name Ministries." He is the former National Chairman of a conservative Capitol Hill think tank; and a former member of the think tank National Center for Public Policy Research. Read entire bio here