Be Doers of The Word and Not Just Hearers – Sunday Thought For The Day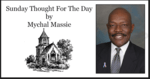 Today's devotion is a reminder.  The following scriptures are of paramount importance for each and everyone of us who have accepted Christ as our Savior.  We cannot accept the Lord as our Savior and continue to live, think, speak, and behave as we did before we were saved.   Join me in praying that we will embrace these admonitions, and commit to living our lives in obedience to God's Word by the power of the Holy Spirit in us.
22 But be ye doers of the word, and not hearers only, deceiving your own selves.
23 For if any be a hearer of the word, and not a doer, he is like unto a man beholding his natural face in a glass:
24 For he beholdeth himself, and goeth his way, and straightway forgetteth what manner of man he was.
25 But whoso looketh into the perfect law of liberty, and continueth therein, he being not a forgetful hearer, but a doer of the work, this man shall be blessed in his deed.
26 If any man among you seem to be religious, and bridleth not his tongue, but deceiveth his own heart, this man's religion is vain.
27 Pure religion and undefiled before God and the Father is this, To visit the fatherless and widows in their affliction, and to keep himself unspotted from the world.
About the Author
Mychal S. Massie is an ordained minister who spent 13 years in full-time Christian Ministry. Today he serves as founder and Chairman of the Racial Policy Center (RPC), a think tank he officially founded in September 2015. RPC advocates for a colorblind society. He was founder and president of the non-profit "In His Name Ministries." He is the former National Chairman of a conservative Capitol Hill think tank; and a former member of the think tank National Center for Public Policy Research. Read entire bio here