Biblical Atheism Is Christendom's Pandemic – Sunday Thought For The Day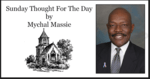 Biblical atheism runs through Christendom today like a deadly and it is asphyxiating the souls of many who call themselves Christian.  Biblical atheism, simply put: is the conscience decision to disbelieve God's Word, the Bible; it is the belief that we can rationalize what part(s) of scripture we will obey based upon what we think.
Perhaps the most blatant and oft witnessed form of Biblical atheism is the lack of true faith in God by the clinging to the fear of our circumstances.  God's Word says: "…for he hath said, I will never leave thee, nor forsake thee.  So that we may boldly say, The Lord is my helper, and I will not fear what man shall do unto me." (See: Hebrews 13:5,6 KJV)  
If as the Psalmist writes in Psalms 119:89 (KJV) God's Word is immutable, i.e., unchangeable, then when did "I will never" become, I might or I will?  This is the lack of faith, i.e., Biblical atheism that is the true pandemic that threatens Christians today.
We pray The Lord's Prayer: "Thy will be done…" (Matthew 6:9-13 KJV), but become despondent, bitter, resentful, with no few people going so far as to say they will never believe in God again because He didn't do what they wanted done.  We pray in Jesus' name but deny the power of His name, believing sinful men are better able to meet our needs.
People say they pray, but they reject the God who answers prayer.  I do not have enough fingers and toes to count the number of people I have met and know who say they pray, but who do not believe in the God of Scripture.  To whom then are they praying?  Prayer is an act of petition to the Lord offering praise and thanks to God, not just repeating a laundry list of wants, needs, and desires.  Thus, if a person doesn't accept the Primacy of God, how can they believe He answers prayer?
All of this leads to fear.  Fear is the greatest example of Biblical atheism.  The number of people who count themselves Christians and yet walk around in mortal fear are calculable only to God; but I can tell you that as a minister, I cannot count the number of people I've personally met who identifying as Christian are paralyzed with morbid fear.  Fear of what happens politically and fear of a flu.
All of these same people are familiar with the Twenty-third Psalm, most can recite much of it, if not all of it verbatim.  But the Biblical atheist ignores that David emphatically states: "Yea, though I walk through the valley of the shadow of death, I will fear no evil: for thou art with me; thy rod and thy staff they comfort me." (Psalms 23:4 KJV)  We would do well to remember that "the valley of the shadow of death" is a real place.
The simplicity of David's absolute commitment to faith in God, not fear, is the singular expression of this beautiful Psalm.
My Pastor and I tirelessly talk about the indescribable joy and comfort that comes from believing every Word of God is true and immutable.  If we say we believe in God, does it not also follow that we should believe His Word?
READ:
Psalm 23 KJV
1 The Lord is my shepherd; I shall not want.
2 He maketh me to lie down in green pastures: he leadeth me beside the still waters.
3 He restoreth my soul: he leadeth me in the paths of righteousness for his name's sake.
4 Yea, though I walk through the valley of the shadow of death, I will fear no evil: for thou art with me; thy rod and thy staff they comfort me.
5 Thou preparest a table before me in the presence of mine enemies: thou anointest my head with oil; my cup runneth over.
6 Surely goodness and mercy shall follow me all the days of my life: and I will dwell in the house of the Lord for ever.
About the Author
Mychal S. Massie is an ordained minister who spent 13 years in full-time Christian Ministry. Today he serves as founder and Chairman of the Racial Policy Center (RPC), a think tank he officially founded in September 2015. RPC advocates for a colorblind society. He was founder and president of the non-profit "In His Name Ministries." He is the former National Chairman of a conservative Capitol Hill think tank; and a former member of the think tank National Center for Public Policy Research. Read entire bio here