Billboards For Sin – Sunday Thought For The Day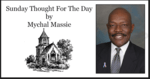 Name-brand designer sports clothing, sneakers and eye-ware, even if they are just good knockoffs, are important in most social structures our children face today. It is important for them to have the name-brand sneakers and warmup clothing, etc. It is important for them to say they shop at the right store(s) in the mall.
Parents are only too happy to spend money on such things, even to the point of some parents telling me how bad they feel because they cannot provide their children with the "right" sneakers.
It's through the alliance by parents to placing high value upon name-brand items, that children are first educated that the right sneakers, sunglasses, jeans, organization and/or cellular phone is more important than obeying God. Organizations such as the Girl Scouts are advocates of abortion and lesbianism; the Boy Scouts have embraced homosexuality. And yet many parents unwittingly and/or stubbornly sacrifice their children to these evil gods. Churches elevate the selling of Girl Scout cookies within the church to the level of mission outreach.
As parents we have an obligation before God to raise our children in the fear and admonition of the Lord. We have an obligation to teach our children that there are absolutes. We have an obligation to live out the example of willingness to honor and obey God in all things. But first and foremost, we have an obligation before God to teach and example that nothing and no one comes before God.
We marvel at Daniel's willingness to go into the lion's den rather than dishonor God by adhering to the anti-God dictate of Darius the king. But, specific to that point Daniel had witnessed his companions: Shadrach, Meshach and Abednego willing to go into the fiery furnace rather than bow before an idol. And together they would all have been aware that Joseph went to prison rather than commit sexual sin with Potiphar's wife to mention but a few. I'm sure that Mordecai and Esther would have been aware of the stance against sinful/worldly conformity that Daniel took. They were examples one to another that reinforced putting God first in extraordinary circumstances when adopting the lifestyle of the world would have been the popular and safe thing to do.
We as parents today must be Godly watchers on the walls of our homes and of the minds and character of the minds of our children. Sadly, for our children, many well-meaning but foolish Christians allow their children to decide what they cannot live without. Even more egregious is the fact that many well-meaning Christian parents reinforce lust of the eyes and the flesh because they see nothing wrong with making their children walking billboards that promote tolerance for those things which God hates.
Stores such as Target, companies such as Nike and Under Armour are a must in the minds and social strata of many, many Christian homes. But Target proudly supports the attack on family by homosexuals and places our family members at risk by endorsing men in the same bathroom with our wives, mothers and daughters. Target boasts their promotion of clothing specific to homosexuality. Nike supported a person who promoted lies, hatred and dissension all based upon lies about skin color. Under Armour has just launched an aggressive ad campaign promoting transgenderism and homosexuality in athletes.
When we shop at stores like Target and wear products with the names of companies on them that support sinful lifestyles we are saying we support what those stores and companies promote.
As parents we have an obligation before God to do more than just pray for our children, we have an obligation to live what we pray. If we do not, we are living a lie, because we are saying it is okay to embrace sin if it is by wearing the right products, shopping at the right stores and joining the right clubs.
READ: 2 Corinthians 6:15-18 (KJV)
15 And what concord hath Christ with Belial? or what part hath he that believeth with an infidel?
16 And what agreement hath the temple of God with idols? for ye are the temple of the living God; as God hath said, I will dwell in them, and walk in them; and I will be their God, and they shall be my people.
17 Wherefore come out from among them, and be ye separate, saith the Lord, and touch not the unclean thing; and I will receive you.
18 And will be a Father unto you, and ye shall be my sons and daughters, saith the Lord Almighty.
About the Author
Mychal S. Massie is an ordained minister who spent 13 years in full-time Christian Ministry. Today he serves as founder and Chairman of the Racial Policy Center (RPC), a think tank he officially founded in September 2015. RPC advocates for a colorblind society. He was founder and president of the non-profit "In His Name Ministries." He is the former National Chairman of a conservative Capitol Hill think tank; and a former member of the think tank National Center for Public Policy Research. Read entire bio here