Calm Independence Is Dependence Upon God – Sunday Thought For The Day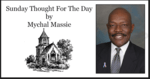 In Philippians 4:11 (KJV), the Apostle Paul writes: "Not that I speak in respect of want: for I have learned, in whatsoever state I am, therewith to be content."  In today's Sunday Thought, it's the word Paul uses for content that I want us to focus on.  Most people reading scriptures would anglicize the meaning of the word; but, in so doing they would change the meaning and Paul's reason for using it completely.
The word Paul uses for "content" in the common Greek dialect of the first century, which is called Koiné, is autarkés (pronounced: ow-tar'-kace).  Not unusual for the Greek language, it is a combination word, which combines the word autos (self) and arkein (sufficient).  This is the only place in scripture that the word is used.
The word refers to: positive self-sufficiency (inward adequacy) – i.e., that comes through the indwelling power of Christ.  It is self-sufficiency, which is entirely God-produced.
As Benson explains: Not that I speak in respect of want — As if he had said, I do not speak thus feelingly of the renewal of your care because I was unhappy in poverty; for I have learned — From God, he only can teach this; in whatsoever state I am — In whatever circumstances God is pleased to place me, whether in plenty or want, in honour or reproach, in health or sickness, ease or pain; therewith to be content — Joyfully and thankfully patient.  Nothing less is Christian contentment.
Paul expresses a tone of calm independence, i.e., detachment from his circumstances.  He has learned through many dire circumstances that he isn't part of the situation albeit the situation is around him.  As he said: "I have learned whatsoever state I am…"  This is not something that came natural for the Apostle, but it was something that he matured into by committing himself and his circumstances to Christ our Savior and our God.
Paul wasn't driven by nor alarmed by His circumstances.  He knew and believed that his focus was to be on the work of the Lord, not circumstances that he had no control over.  To fret and waste time and energy over that which only God can control gives rise to frustration, resentment and in many instances the compounding of problems that could have been avoided if we truly placed our dependence upon the Lord and not on our circumstances.
It's important to note that Paul wasn't just referencing the circumstances he found himself in at that moment, but every situation he experienced, be it good or life threatening.  When we reach that state of dependence upon and faith in the Lord, we're truly free of the yokes of this world.  Our circumstances don't control us.  We need not worry how a situation we're confronted with will be resolved; for our faith and trust is in God that He will resolve it.  He will be faithful to His promise to never leave us or forsake us .
It takes faith to depend on God.  It also takes spiritual awareness to grow, i.e., mature as true Christians until we reach the place of assurance that no circumstance(s) causes us to worry and fret.
George Müller, the 19th century Christian evangelist and founder of numerous children's orphanages was wholly dependent upon God to sustain his ministry.  His quote: "Faith does not operate in the realm of the possible. There is no glory for God in that which is humanly possible. Faith begins where man's power ends;" is powerful truth.
How many Christians today are completely consumed by world/national events, taking place to the point of living in fear?  How many true Christians give lip service to not being of this world, but spend their time worrying about preventing what has been prophesied from the beginning, i.e., the Lord's return is imminent, this world is going to be destroyed by fire and every single person who hasn't personally accepted Christ as their Savior is going to suffer in hell for all eternity?  Every single one of these things is going to happen – no person and no thing can prevent it.
We must grow in our maturity and in our relationship with Christ to the point that we permit nothing to turn our attention away from our God.  Sadly, many believers don't want to draw that close to the Lord.  They want to play Christ and attend churches that are nothing more than coffee/juice bars that serve monthly pot-luck dinners.  They're led by so-called pastors who encourage the congregants to focus on football and baseball to the exclusion of true reverence to the Lord and obedience to His word.
We must decide how we want to live our life.  Do we want to live leaning upon God, dedicated to His work or do we want to live immersed in the worry and demonic spirituality that calls this world home?
My family and I choose the work of the Lord.  As my beloved Christian brother and companion in Christ and I have said to one another many times: I go to sleep at night and wake up each morning expecting and anticipating God's provision by faith for the big and the small.  And we give Him praise and thanks for every situation.  How can any true Christian claim to have faith and be filled with worry?  Many have forgotten that Christ personally prayed for His own, that God would keep us from the evil of this world?  How can the God the Father not answer God the Son's prayer for us?
READ:
Isaiah 40:21-31 KJV
21 Have ye not known? have ye not heard? hath it not been told you from the beginning? have ye not understood from the foundations of the earth?
22 It is he that sitteth upon the circle of the earth, and the inhabitants thereof are as grasshoppers; that stretcheth out the heavens as a curtain, and spreadeth them out as a tent to dwell in:
23 That bringeth the princes to nothing; he maketh the judges of the earth as vanity.
24 Yea, they shall not be planted; yea, they shall not be sown: yea, their stock shall not take root in the earth: and he shall also blow upon them, and they shall wither, and the whirlwind shall take them away as stubble.
25 To whom then will ye liken me, or shall I be equal? saith the Holy One.
26 Lift up your eyes on high, and behold who hath created these things, that bringeth out their host by number: he calleth them all by names by the greatness of his might, for that he is strong in power; not one faileth.
27 Why sayest thou, O Jacob, and speakest, O Israel, My way is hid from the Lord, and my judgment is passed over from my God?
28 Hast thou not known? hast thou not heard, that the everlasting God, the Lord, the Creator of the ends of the earth, fainteth not, neither is weary? there is no searching of his understanding.
29 He giveth power to the faint; and to them that have no might he increaseth strength.
30 Even the youths shall faint and be weary, and the young men shall utterly fall:
31 But they that wait upon the Lord shall renew their strength; they shall mount up with wings as eagles; they shall run, and not be weary; and they shall walk, and not faint.
About the Author
Mychal S. Massie is an ordained minister who spent 13 years in full-time Christian Ministry. Today he serves as founder and Chairman of the Racial Policy Center (RPC), a think tank he officially founded in September 2015. RPC advocates for a colorblind society. He was founder and president of the non-profit "In His Name Ministries." He is the former National Chairman of a conservative Capitol Hill think tank; and a former member of the think tank National Center for Public Policy Research. Read entire bio here