Change Agents – Sunday Thought For Day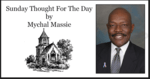 Susanna Wesley, in addition to being the mother of a large family is best known as the mother of John and Charles Wesley, two of Christendom's most important church fathers.
One of Susanna's most notable quotes is: "Whatever weakens your reason, impairs the tenderness of your conscience, obscures your sense of God, or takes off your relish of spiritual things; in short, whatever increases the strength and authority of your body over your mind; that thing is sin to you, however innocent it may be in itself."  This brings me to my point.
Behavior modification is the use of targeted change techniques to increase the frequency of adaptive behavior and decrease the frequency of maladaptive behavior.
From a psychological perspective, I submit the most effective method of behavioral modification is modeling, which means learning by copying the behavior of others.  However, in the social engineering of today, it entails purposely modifying the behavior of a person and/or group in order to achieve nefarious goals.
With that understanding, there's no better means of achieving said goal than through media constructs, e.g., video games, computers, music, smart phones, magazines, political correctness, peer pressure, and the most powerful behavioral modifier – television.  These media constructs have one function and that's to modify behavior in a way that converts one away from Godliness.
I enjoy the television programming of my childhood, e.g., The Lone Ranger, Perry Mason, Gene Autry, Roy Rogers, Leave it to Beaver, movies from the 1930s and 1940s, Highway Patrol, Sky King, Jack Benny, You Bet Your Life with Groucho Marx, The Three Stooges, cartoons and the like.
Today, even with the rise of so-called family formatted television stations, they still advertise that which is antithetical to wholesome, Godly lifestyles.  I called the corporate offices of the FETV (Family Entertainment Television) channel, because I did not expect to see two men kissing in commercials on a channel advertised as being family oriented.  They assured me the fault for said advertisements laid elsewhere and they would be removed.  To their credit they were removed.
I don't watch programming that celebrates adultery and portrays it with a happily ever after ending.  I don't consider my not watching such programming as puritanical.  I consider it not taking pleasure in that which my God's Word condemns.  When I was fallen in sin, it was one thing; but, I'm not that person anymore.  Most of the programming I watch, I record first and then play back so I can fast forward through commercials at high speed; but I digress.
It's near impossible to watch television without some form of decadence advertised as normal, desirable and pleasurable.  The ads are directed toward both adults and children.  It's a form of behavior modification intended to persuade people it's perfectly acceptable and healthy to engage in reprobate behavior.
The programming of today uses the name of God as a pejorative, not as the Name to be revered; and certainly not as the Name at which one day every knee will bow; it uses ridiculous sayings intended to marginalize and disparage God and portrayals of men and machines as more intelligent than God ad nauseum.
Those things may not offend other Christians, but they should.  Those behaviors and dialogues are intended to induce and validate behavior that's antithetical to God.  Satan is nothing if not a liar and deceiver and there's no better way to lie and deceive than through the medium of television, media and targeted advertising.
It's part of an all out effort to turn behavior of people from God and obedience to His Word.  Honoring and obeying God's Word is viewed as maladaptive behavior.  The progeny of Satan want behavior that is readily and easily adaptive to debauchery and wickedness and they hate all who will not conform to same.
Television itself is not evil, but how it is used most definitely is evil.  We must be aware and alert to what we're ingesting through it less we find ourselves modeling behavior that is antithetical to God.  It's the same thing with computers and smart phones.
READ:
1 Corinthians 11:1 KJV
1 Be ye followers of me, even as I also am of Christ.
Joshua 24:15-24 KJV
15 And if it seem evil unto you to serve the Lord, choose you this day whom ye will serve; whether the gods which your fathers served that were on the other side of the flood, or the gods of the Amorites, in whose land ye dwell: but as for me and my house, we will serve the Lord.
16 And the people answered and said, God forbid that we should forsake the Lord, to serve other gods;
17 For the Lord our God, he it is that brought us up and our fathers out of the land of Egypt, from the house of bondage, and which did those great signs in our sight, and preserved us in all the way wherein we went, and among all the people through whom we passed:
18 And the Lord drave out from before us all the people, even the Amorites which dwelt in the land: therefore will we also serve the Lord; for he is our God.
19 And Joshua said unto the people, Ye cannot serve the Lord: for he is an holy God; he is a jealous God; he will not forgive your transgressions nor your sins.
20 If ye forsake the Lord, and serve strange gods, then he will turn and do you hurt, and consume you, after that he hath done you good.
21 And the people said unto Joshua, Nay; but we will serve the Lord.
22 And Joshua said unto the people, Ye are witnesses against yourselves that ye have chosen you the Lord, to serve him. And they said, We are witnesses.
23 Now therefore put away, said he, the strange gods which are among you, and incline your heart unto the Lord God of Israel.
24 And the people said unto Joshua, The Lord our God will we serve, and his voice will we obey.
About the Author
Mychal S. Massie is an ordained minister who spent 13 years in full-time Christian Ministry. Today he serves as founder and Chairman of the Racial Policy Center (RPC), a think tank he officially founded in September 2015. RPC advocates for a colorblind society. He was founder and president of the non-profit "In His Name Ministries." He is the former National Chairman of a conservative Capitol Hill think tank; and a former member of the think tank National Center for Public Policy Research. Read entire bio here