Christ Is Not My Co-Pilot, He Is My God – Sunday Thought For The Day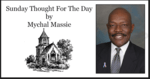 As I was driving recently, I glanced at my bible in the front seat next to me and was reminded of the old saying and bumper sticker: "Jesus Is My Co-Pilot." While not seen on automobile bumpers as much today, the saying itself is practiced in the daily lives of many who profess themselves to be Christians.
The point I want to make is this. If Christ is our co-pilot, it is we who are in control of the vehicle called our lives and He is along to attend to the ancillary things. That's what co-pilots do.
In our minds we may think and believe that God is in control of our lives, but the truth is that every part of our lives we have not given over to Him, i.e., Christ, we are retaining control. Often we do this out of a stubborn unawareness. That is why we must every day pray and ask God that He lead us, guide us and keep us in every facet of our lives through that day. That is why we must ask God to place in our hearts the desire to let Him be Lord of all of our life.
I tell you from the very core of my being that I personally want nothing more and cannot think of another way I would rather live, than having Christ my Savior in control of all of my life. If I have surrendered every area of my life to Him, I am also trusting Him to protect me and lead me in the path of obedience, righteousness, safety/security and the desire to serve Him.
The question becomes: "Do we trust God enough to give ourselves to Him completely?" I can think of no way I would rather live than knowing that my precious, loving Heavenly Father is in control of my life. I can tell you that the best days of my life before I accepted Christ as my Savior and committed my life to Him were still a godless mess. I knew nothing of the peace and security that I experience in my life today.
READ: Psalm 121 (KJV)
1 I will lift up mine eyes unto the hills, from whence cometh my help.
2 My help cometh from the Lord, which made heaven and earth.
3 He will not suffer thy foot to be moved: he that keepeth thee will not slumber.
4 Behold, he that keepeth Israel shall neither slumber nor sleep.
5 The Lord is thy keeper: the Lord is thy shade upon thy right hand.
6 The sun shall not smite thee by day, nor the moon by night.
7 The Lord shall preserve thee from all evil: he shall preserve thy soul.
8 The Lord shall preserve thy going out and thy coming in from this time forth, and even for evermore.
About the Author
Mychal S. Massie is an ordained minister who spent 13 years in full-time Christian Ministry. Today he serves as founder and Chairman of the Racial Policy Center (RPC), a think tank he officially founded in September 2015. RPC advocates for a colorblind society. He was founder and president of the non-profit "In His Name Ministries." He is the former National Chairman of a conservative Capitol Hill think tank; and a former member of the think tank National Center for Public Policy Research. Read entire bio here