Christ Is Truth – Sunday Thought For The Day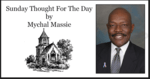 One of the quotes I have written on the inside cover of my bible reads: "Truth in the bible is not a concept; truth in the bible is the person of Jesus Christ."  I cannot give attribution for this profound truth, because I do not know its origin.  But I can attest to the absolute truth of it.
From the very first time I read the Word of God, I believed without question or doubt that it was the Word of God and that every Word in it was absolute truth.  Long before I accepted Christ as my Savior, and even when I backslid, I never doubted the personage of Christ as the Truth in the bible.
My Salvation is based upon my sins being forgiven because I accepted Christ my  as Savior and repented of my wicked ways.  But I couldn't believe what the Word of God said about Salvation, unless I had unwavering, unshakable, total faith in the "Truth" of the bible.  I have that absolute confidence, because I have absolute faith in the personage of Christ as the "Truth".
It's beyond my ability to comprehend how people can say they love God and love Jesus, yet easily reject His word by not faithfully worshipping in a Christ-centered bible preaching church.  I love going to church and fellowshipping with my brothers and sisters in the Lord.  I look forward with expectation to what our Pastor will be preaching.  Every aspect of our church service is filled with Christ.  I cannot imagine Christian life without the church.
There should be no moment of a Christian's waking hours that some part of our being is not aware of the relationship we have with God through Jesus Christ.
Every Friday the men at church who are able, meet at church for an informal lunch and fellowship.  Friday past was no different.  Our conversations were wide ranging, but the one thing we kept coming back to, was Christ in our lives and Christ as our reason for being.  He is our life.  God is our Heavenly Father.  To the man, as we talked and laughed we kept coming back to God in our lives.  To wit I say, if we are consumed with Christ our constancy with the Father is unbroken, because He is the light unto our path.
We are not remotely perfect.  I confess that I drop the ball and ask the Lord to forgive me for something that I've said, done or thought much more often than I desire.  We all do.
The point to all I have just said, is that God is my God, Christ is my Truth and my Salvation; true fellowship with the brethren encourages worship of God.  The joy in our Spirit brings all of the aforementioned to constant prayer and communication with God our Father and Jesus Christ who is the Truth of our Salvation.
Christ in our lives is not a game or something we say without conviction.  My friends, let us all desire to love, worship, obey, and maintain constancy with our Father in heaven.  Let our life, mind and thoughts be stayed upon Him to the point that we may all say with the greatest of confidence that: "For [us] to live is Christ and to die is gain." (Philippians 1:21 KJV)
If we claim to be Christians, and if we claim to love God, how then can we not desire all of Him in obedience and truth?
READ:
Philippians 3:7-14 KJV
7 But what things were gain to me, those I counted loss for Christ.
8 Yea doubtless, and I count all things but loss for the excellency of the knowledge of Christ Jesus my Lord: for whom I have suffered the loss of all things, and do count them but dung, that I may win Christ,
9 And be found in him, not having mine own righteousness, which is of the law, but that which is through the faith of Christ, the righteousness which is of God by faith:
10 That I may know him, and the power of his resurrection, and the fellowship of his sufferings, being made conformable unto his death;
11 If by any means I might attain unto the resurrection of the dead.
12 Not as though I had already attained, either were already perfect: but I follow after, if that I may apprehend that for which also I am apprehended of Christ Jesus.
13 Brethren, I count not myself to have apprehended: but this one thing I do, forgetting those things which are behind, and reaching forth unto those things which are before,
14 I press toward the mark for the prize of the high calling of God in Christ Jesus.
About the Author
Mychal S. Massie is an ordained minister who spent 13 years in full-time Christian Ministry. Today he serves as founder and Chairman of the Racial Policy Center (RPC), a think tank he officially founded in September 2015. RPC advocates for a colorblind society. He was founder and president of the non-profit "In His Name Ministries." He is the former National Chairman of a conservative Capitol Hill think tank; and a former member of the think tank National Center for Public Policy Research. Read entire bio here