Christ – The True Gift – Sunday Thought For The Day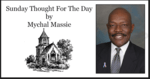 There were two reasons I was reluctant to accept Christ as my Savior: 1) I was afraid of what I have to give up; 2) I was afraid I wouldn't be able to have fun anymore, as I defined fun.
What I ultimately came to realize was that my secret anxieties for resisting accepting Christ, had nothing to do with what I would have to give up and/or the abandonment of having fun. The reason for my secret anxieties was that my life before God was not right, and I feared I would be held accountable for living a life that I knew was wrong but refused to admit it.
Therein is the lie of the devil that keeps us mired in sin, separated from God, and destined for judgement that results in eternal damnation. It is the refusal to repent and turn from our godless lifestyle that leads us to create our own forms of righteousness.
We know in our innermost being that there is but one way to Salvation and it's to turn to God through Jesus Christ. Because we refuse to confess we are living in disobedience, we make volunteering and/or donating to social and community involvements an act of goodness that is somehow worthy of Salvation. We sillily embrace aberrant behavior that God condemns, as an act of showing love, when in reality doing that is the equivalent of calling wicked behavior good.
What I personally failed to realize was what I would ultimately be giving up was a weight that I carried 24/7, 365 days a year, and that was emptiness. Yet I refused to turn to God. As was said of St. Augustine, I turned instead to a succession of desperate searches for fulfillment by engaging in excessive pleasures, false religions, philosophy, distractions, and the pursuit of spending on the collection of things. Still in the final analysis those were all futilities that left me as dissatisfied and empty as I was before I was in a position to pursue such things.
What I rejected was the timeless observation by St. Augustine: "You have made us for yourself, and our hearts are restless, until they can find rest in you."
That my friends was the simplest of truths Satan didn't want me to realize. God created me/us for Himself and without Him we are empty and unfulfilled. We can fill our lives with community/social work, alcohol, drugs, sexual immorality, travel, accumulating things, and the pursuit of spending; but without God we are empty and unfulfilled. It is not until we confront the inadequacy of such behavior that we experience true fulfillment and peace.
As we approach the day we celebrate as the Birth of Christ, let us ask ourselves: Is the celebration of this day singularly about giving and getting or is it the day that God showed He so loved the world, that He gave His only begotten Son, that by believing in His son we would not perish but have everlasting life, and here on earth we would enjoy true peace and fulfillment?
My friends, Christ is the true gift worth receiving this Christmas. We can deceive ourselves, but we cannot deceive God. He knows whether or not we have received His Son. And if we are honest, we do as well.
READ:
John 3:1-21 KJV
1 There was a man of the Pharisees, named Nicodemus, a ruler of the Jews:
2 The same came to Jesus by night, and said unto him, Rabbi, we know that thou art a teacher come from God: for no man can do these miracles that thou doest, except God be with him.
3 Jesus answered and said unto him, Verily, verily, I say unto thee, Except a man be born again, he cannot see the kingdom of God.
4 Nicodemus saith unto him, How can a man be born when he is old? can he enter the second time into his mother's womb, and be born?
5 Jesus answered, Verily, verily, I say unto thee, Except a man be born of water and of the Spirit, he cannot enter into the kingdom of God.
6 That which is born of the flesh is flesh; and that which is born of the Spirit is spirit.
7 Marvel not that I said unto thee, Ye must be born again.
8 The wind bloweth where it listeth, and thou hearest the sound thereof, but canst not tell whence it cometh, and whither it goeth: so is every one that is born of the Spirit.
9 Nicodemus answered and said unto him, How can these things be?
10 Jesus answered and said unto him, Art thou a master of Israel, and knowest not these things?
11 Verily, verily, I say unto thee, We speak that we do know, and testify that we have seen; and ye receive not our witness.
12 If I have told you earthly things, and ye believe not, how shall ye believe, if I tell you of heavenly things?
13 And no man hath ascended up to heaven, but he that came down from heaven, even the Son of man which is in heaven.
14 And as Moses lifted up the serpent in the wilderness, even so must the Son of man be lifted up:
15 That whosoever believeth in him should not perish, but have eternal life.
16 For God so loved the world, that he gave his only begotten Son, that whosoever believeth in him should not perish, but have everlasting life.
17 For God sent not his Son into the world to condemn the world; but that the world through him might be saved.
18 He that believeth on him is not condemned: but he that believeth not is condemned already, because he hath not believed in the name of the only begotten Son of God.
19 And this is the condemnation, that light is come into the world, and men loved darkness rather than light, because their deeds were evil.
20 For every one that doeth evil hateth the light, neither cometh to the light, lest his deeds should be reproved.
21 But he that doeth truth cometh to the light, that his deeds may be made manifest, that they are wrought in God.
About the Author
Mychal S. Massie is an ordained minister who spent 13 years in full-time Christian Ministry. Today he serves as founder and Chairman of the Racial Policy Center (RPC), a think tank he officially founded in September 2015. RPC advocates for a colorblind society. He was founder and president of the non-profit "In His Name Ministries." He is the former National Chairman of a conservative Capitol Hill think tank; and a former member of the think tank National Center for Public Policy Research. Read entire bio here