Christians Are More Obedient to Man Than God – Sunday Thought For The Day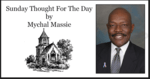 The Word of God contains factual accounts of men and women who unwaveringly obeyed God in the face of threats we cannot imagine. These Saints of God did not bow nor did they seek compromise as a means to obey God's commands.
Daniel didn't offer to close the windows and pray in secret to avoid the decree of King Darius. He prayed the same way he had after the decree was signed, as he had before it was signed. (Daniel 6:10 KJV)
The men and women of Scripture faced wicked governments whose evil threats carried the guarantee of death. However, throughout the Bible we see the men and women who were called of God to be leaders, standing intractably committed to not seeking or accepting compromise as a favor from wicked men, in order to have some measure of approval.
The servants of God in Scripture believed God, and they obeyed Him exclusively. They knew that there is no compromise with the devil.
The Word of God is immutable and intractable. When the biblical Saints of Scripture said, "Thus saith the Lord…" there was no hint of compromise. When Jesus, Himself said, "It is written…" there was no suggestion of negotiation or flexibility in His word.
Churches today seek to compromise with evil, wicked men and governments in the heretical belief that if we make nice with the world they will let us worship, etc. This is a blasphemous mentality.
God, our God, is a mighty God and His promises are from everlasting to everlasting. He has never failed nor have one of His promises ever been broken. Moses stood before Pharaoh, an evil man with absolute power, and yet Moses and Aaron did not seek to compromise. Instead they quoted God: "Thus saith the Lord God of Israel, Let my people go…" (Exodus 5:1 KJV)
Pharaoh, i.e., the disciple of Satan refused and we read the record of the price he paid for resisting the command of God. This is but one account of Saints of God obeying the Word of God. Scripture is replete with accounts of men and women resisting God's people and the horrible price they paid for same.
It is time for believers today, to gird up our loins and say: "Thus saith the Lord, we will not bow before wicked men nor will we seek favor through compromise. We are children of the Most High God. He is our Protecter. We will honor and obey Him, concerning the things belonging to Him; and that specifically includes worshipping."
How can those who count themselves born-again Christians seek permission from the children of Satan, to assemble ourselves together and worship?
READ: Acts 5:25-32 KJV
25 Then came one and told them, saying, Behold, the men whom ye put in prison are standing in the temple, and teaching the people.
26 Then went the captain with the officers, and brought them without violence: for they feared the people, lest they should have been stoned.
27 And when they had brought them, they set them before the council: and the high priest asked them,
28 Saying, Did not we straitly command you that ye should not teach in this name? and, behold, ye have filled Jerusalem with your doctrine, and intend to bring this man's blood upon us.
29 Then Peter and the other apostles answered and said, We ought to obey God rather than men.
30 The God of our fathers raised up Jesus, whom ye slew and hanged on a tree.
31 Him hath God exalted with his right hand to be a Prince and a Saviour, for to give repentance to Israel, and forgiveness of sins.
32 And we are his witnesses of these things; and so is also the Holy Ghost, whom God hath given to them that obey him.
About the Author
Mychal S. Massie is an ordained minister who spent 13 years in full-time Christian Ministry. Today he serves as founder and Chairman of the Racial Policy Center (RPC), a think tank he officially founded in September 2015. RPC advocates for a colorblind society. He was founder and president of the non-profit "In His Name Ministries." He is the former National Chairman of a conservative Capitol Hill think tank; and a former member of the think tank National Center for Public Policy Research. Read entire bio here