Christians In America Are Not Battle Tested – Sunday Thought For The Day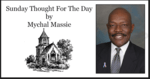 Is not our God today the same God that Abraham, Isaac, Joseph, Moses, David, Daniel, Shadrach, Meshach, Abednego, Peter, and Paul trusted? If He is, then what is there today that He cannot and will not do that He did for them?
I can understand those who aren't saved and those who think they're Christians because they've deemed themselves good people based upon their definition of righteousness, being terrified, because their hope is in themselves and what man will do for them. But where in the Word of God are we told to trust in ourselves and/or in man?
Why are true Christians wringing their hands in front of their flatscreen televisions horrified of Covid19 Virus and the State shutdowns? Why are so many true Christians sitting glued to so-called news and information programming whose sole incentive is to foment fear and panic?
In America have we born-again Christians become soft and weak in faith because we've grown accustomed to living what I call "a soft, unchallenging, and uninspired Christianity?"
We don't have to sneak to church under fear of arrest. Notwithstanding, we have well funded legal institutes waiting in the wings to file lawsuits on our behalf against those who even hint at treating us unjustly. Born-again Christians in countries around the world face death if they're seen carrying a Bible. Born-again Christians in the Middle East and China gather in secret to worship and if caught they are tortured, beheaded or burned to death alive. Contrary to what the media is not telling us, nearly everyone who catches the Covid19 virus, specifically in America, will recover just as they would from any other flu virus.
I do not equate suffering the realities of life as living under threat. Born-again Christians living in many parts of the world live under threat of death every moment of every day of their lives and yet they are strong in their faith and bold in their stand for God.
Maybe it's because born-again Christians living in America aren't battle tested and battle scared. Born-again Believers in other parts of the world lean singularly upon the Lord because they know they have no one else to lean on. Sadly and to our shame, many born-again Christians in America look to man and/or trust in themselves not only before they turn to God, but if they turn to God at all.
As Born-again Christians in America we must view this period of Covid19 Virus not with fear, but as a moment of opportunity to reach people for Christ. We must gather at the altars of our Churches and in our homes, petitioning God for protection and to use us especially at this time. That's not to say we behave recklessly; it is to say that the same God who did not fail Joseph, Moses, David, Daniel or Paul will not fail us either.
We need to turn off our televisions and open our Bibles. We need to read the accounts of the servants of God in scripture and the rich legacy of triumph they have left us, of at times being afraid but never wavering in their belief that God was their strength and their protecter. We must have faith in God. In Him alone must we invest our hope. We know that God often uses man as to answer our prayers, but we err the moment that we look to man before or instead of looking to God.
READ: Exodus 14:9-10;13-14;19-22;30-31 (KJV)
9 But the Egyptians pursued after them, all the horses and chariots of Pharaoh, and his horsemen, and his army, and overtook them encamping by the sea, beside Pihahiroth, before Baalzephon.
10 And when Pharaoh drew nigh, the children of Israel lifted up their eyes, and, behold, the Egyptians marched after them; and they were sore afraid: and the children of Israel cried out unto the Lord.
13 And Moses said unto the people, Fear ye not, stand still, and see the salvation of the Lord, which he will shew to you to day: for the Egyptians whom ye have seen to day, ye shall see them again no more for ever.
14 The Lord shall fight for you, and ye shall hold your peace.
19 And the angel of God, which went before the camp of Israel, removed and went behind them; and the pillar of the cloud went from before their face, and stood behind them:
20 And it came between the camp of the Egyptians and the camp of Israel; and it was a cloud and darkness to them, but it gave light by night to these: so that the one came not near the other all the night.
21 And Moses stretched out his hand over the sea; and the Lord caused the sea to go back by a strong east wind all that night, and made the sea dry land, and the waters were divided.
22 And the children of Israel went into the midst of the sea upon the dry ground: and the waters were a wall unto them on their right hand, and on their left.
30 Thus the Lord saved Israel that day out of the hand of the Egyptians; and Israel saw the Egyptians dead upon the sea shore.
31 And Israel saw that great work which the Lord did upon the Egyptians: and the people feared the Lord, and believed the Lord, and his servant Moses.
About the Author
Mychal S. Massie is an ordained minister who spent 13 years in full-time Christian Ministry. Today he serves as founder and Chairman of the Racial Policy Center (RPC), a think tank he officially founded in September 2015. RPC advocates for a colorblind society. He was founder and president of the non-profit "In His Name Ministries." He is the former National Chairman of a conservative Capitol Hill think tank; and a former member of the think tank National Center for Public Policy Research. Read entire bio here