Do We Love God Enough To Put Him First? – Sunday Thought For The Day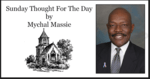 If you are a Christian, don't worry about the world watching you – worry about your family members, close friends and co-workers both saved and unsaved. As Christians we live our lives as a witness of God in our life. We're either positive witnesses, poor witnesses or no witness for Lord. Following are cautionary examples of often overlooked pitfalls Satan prepares for Christians who purpose to live for God.
One of the most important testimonies we can make as Christians is by putting God first in all things. I know a person who always tells his friends the same the thing when they invite him to do something that conflicts with church or bible study: He tells them: "He wants to attend church or bible study." Note that he says: "He wants to attend church service or a bible study" – he doesn't say "he has to attend." That is an important distinction. It may not seem like a big deal, but believe me to his friends and co-workers watching him, the phrasing doesn't go unnoticed. They understand that his God comes first in all things.
I know of a family who live minutes from their church but who were seldom at church on time. The husband, wife and their children never once attended the Sunday morning sanctuary prayer as a family. Over a period of time it became easier for the family to attend infrequently or not at all. Suffice it to say their marginalization of God in church has also given rise to predictable problems in their marriage, which finds both people relationally bankrupt more often than not.
Here is my point. If we are walking in step with the Lord, our desire is to spend time learning about Him and worshipping Him. As Christians, we make a grievous mistake to loose sight of the fact that Satan will use our practice of marginalizing the importance of faithful church attendance to sully our relationship, and our witness for God. He will also use our inconsistency to lead others astray by our living the message that church is only important when we don't have something else to do.
Is there something in our life more important than being in the house of the Lord with God's people?
If you as a husband, wife and family faithfully attend together you are blessed. If you are married and one spouse or the other is not saved or thinks it's alright to marginalize God, that's their prerogative. However, it is wrong to submit to their ungodliness.
I cannot stress how critically important this is for young Christians dating someone they believe to be a Christian. A barometer of their love for you, will be their love for God. It's easy to say we love God when it doesn't cost us what we want to do. But, do not forget that Abraham's faith was tested and proven when he was instructed to sacrifice Isaac, his son. The test of a person's love for God and trust in God, is if they're willing to obey God before all else and everyone else.
There's a reason the Apostle Peter writes: "Be sober, be vigilant; because your adversary the devil, as a roaring lion, walketh about, seeking whom he may devour … Whom resist stedfast in the faith…" (1 Peter 5:8-9 KJV)
For a Christian it is better to be alone than to knowingly attach themself to an unbeliever or to someone who sees nothing wrong with marginalizing the importance of a Christ-centered bible believing church. God's promises are true; and if we put Him first we will reap His good pleasure. The road of shattered lives is littered with broken families and marriages of those who put their lust and worship of another person above God.
READ:1 Peter 5:2-9 Authorized (King James) Version (AKJV)
2 feed the flock of God which is among you, taking the oversight thereof, not by constraint, but willingly; not for filthy lucre, but of a ready mind;
3 neither as being lords over God's heritage, but being ensamples to the flock.
4 And when the chief Shepherd shall appear, ye shall receive a crown of glory that fadeth not away.
5 Likewise, ye younger, submit yourselves unto the elder. Yea, all of you be subject one to another, and be clothed with humility: for God resisteth the proud, and giveth grace to the humble.
6 Humble yourselves therefore under the mighty hand of God, that he may exalt you in due time:
7 casting all your care upon him; for he careth for you.
8 Be sober, be vigilant; because your adversary the devil, as a roaring lion, walketh about, seeking whom he may devour:
9 whom resist stedfast in the faith, knowing that the same afflictions are accomplished in your brethren that are in the world.
About the Author
Mychal S. Massie is an ordained minister who spent 13 years in full-time Christian Ministry. Today he serves as founder and Chairman of the Racial Policy Center (RPC), a think tank he officially founded in September 2015. RPC advocates for a colorblind society. He was founder and president of the non-profit "In His Name Ministries." He is the former National Chairman of a conservative Capitol Hill think tank; and a former member of the think tank National Center for Public Policy Research. Read entire bio here