Do You Ever Tire Of Sharing? – Sunday Thought For The Day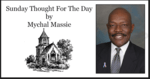 I'm pleased to have called the late Chuck Colson my friend.  After accepting Christ as his Savior, he never stopped sharing the testimony of how he was saved.  I remember an evening he and I were together at an event in Philadelphia, PA.  We were the keynote speakers that evening.  As he and my wife and I talked and shared during the event, I asked him if he ever got tired of sharing his testimony?  He paused for an instant before saying yes; I responded: "So do I."
We were tired; it was only days before Christmas and we had both spent more time on the road that year than a traveling salesman.  Today I realize how easily the enemy of our souls can mislead us the moment we cease paying attention to his warfare.  Even two battle tested, unflinching born-again ministers of God.
I look back at that moment and I ask myself, what were we thinking?  Specific to that question, the answer is: We weren't thinking.  We were wallowing in the mire of fatigue.  It was a cold, wintry evening that was forecast to get colder later that night and it would be long hours before we were back home.  Notwithstanding, there remained several events on each of our schedules before we would return to our home churches to celebrate the birth of our Savior and Christmas.
Which brings me to my point.  How on earth could I ever get tired of sharing how I got saved?  It's the single most important moment in my life.  It's the moment my life was changed forever and eternity.  I went from living a pointless, self-centered existence to being used of God to preach and teach Jesus Christ.  I went from being in rebellion to God to being His child by faith and the transforming power of the new birth.  Everything about me had changed that midday in late August, 1982.  Why or how could I ever tire of sharing what it meant for Christ to have died for me?  How could I ever get tired of sharing the message of salvation with everyone I could?  How could I be so selfish as to want to deny others the gift of what Christ had done in my life?
The truth is that none of those things were my desire whatsoever.  I was tired and wanted nothing more than to be at home with my wife and son in front of the fire enjoying an evening with them and our pets.  Is it wrong to feel like that?  The answer is: it isn't wrong to be tired.
There are numerous places in scripture that we're told the servants of God were tired.  Even Jesus got tired.  Physical tiredness is a result of expended energy.  But, it's what we're susceptible to when we're tired.  Remember that we aren't told Satan tempted Christ Jesus during the 40 days and nights He was fasting and praying.  We're told he tempted Jesus the moment He was done praying and fasting.
Chuck and I were exhausted and travel-weary; and in that moment of weakness we both let our guard down and succumbed to the flesh.  Praise God that the enemy was unable to use our weakness to his advantage.
The Apostles were beaten, chained and thrown into prison(s); the threat of loosing their lives was unending.  Hostile conditions were a constant for them.  But, they never stopped praising God and testifying regarding what He was doing in their lives.
They never stopped sharing the gospel of Christ.  They never stopped preaching and teaching Jesus Christ and Him crucified, dead, buried and resurrected the third day. Many have preached the gospel of Christ as flames or lions devoured them.
I've heard people say: they never discuss politics or religion in certain settings.  I say that's because they have no religion, i.e., faith to discuss.  They cannot discuss what they don't believe and/or they have no interest.
It's important to be extra alert when we're tired, because the enemy of our souls knows there's no better time to attack than when we're tired, sick or not focused.
READ:
Matthew 4:1-11 KJV
1 Then was Jesus led up of the Spirit into the wilderness to be tempted of the devil.
2 And when he had fasted forty days and forty nights, he was afterward an hungred.
3 And when the tempter came to him, he said, If thou be the Son of God, command that these stones be made bread.
4 But he answered and said, It is written, Man shall not live by bread alone, but by every word that proceedeth out of the mouth of God.
5 Then the devil taketh him up into the holy city, and setteth him on a pinnacle of the temple,
6 And saith unto him, If thou be the Son of God, cast thyself down: for it is written, He shall give his angels charge concerning thee: and in their hands they shall bear thee up, lest at any time thou dash thy foot against a stone.
7 Jesus said unto him, It is written again, Thou shalt not tempt the Lord thy God.
8 Again, the devil taketh him up into an exceeding high mountain, and sheweth him all the kingdoms of the world, and the glory of them;
9 And saith unto him, All these things will I give thee, if thou wilt fall down and worship me.
10 Then saith Jesus unto him, Get thee hence, Satan: for it is written, Thou shalt worship the Lord thy God, and him only shalt thou serve.
11 Then the devil leaveth him, and, behold, angels came and ministered unto him.
About the Author
Mychal S. Massie is an ordained minister who spent 13 years in full-time Christian Ministry. Today he serves as founder and Chairman of the Racial Policy Center (RPC), a think tank he officially founded in September 2015. RPC advocates for a colorblind society. He was founder and president of the non-profit "In His Name Ministries." He is the former National Chairman of a conservative Capitol Hill think tank; and a former member of the think tank National Center for Public Policy Research. Read entire bio here