Do You Love Jesus? – Sunday Thought For The Day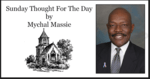 If we asked each person in church, if they loved the Lord, I guarantee not one would openly admit they do not.  After all, what 'churchman' not to mention what Christian, would willingly admit they do not love the Lord?  But, the question that begs answering is: "Do you really love the Lord Jesus Christ?"  Sadly, in response to the question many would say yes or give some quasi-biblical response intended to mean yes, when in reality they're trying not to acknowledge they do not love Him.  Let me explain why I argue many do not love the Lord.
Looking at the number of fallen churches today, it's clear that many people attending church are not true born-again believers, i.e., they're not saved.  You cannot love the Lord, if you're not saved!!  And, the reason many people who are saved, do not truly love Christ, is found in John 14:15: "If ye love me, keep my commandments." (KJV)
Note, that Jesus said, "Keep my commandments."  It's clear He isn't referencing the "Ten Commandments," because no man can keep those; plus they were given for a different purpose than Jesus was addressing.  The commandments of Christ we're able to keep or He wouldn't have told us to keep them.  It should also be noted that Jesus didn't give us an option for not keeping His commandments.
Jesus made this statement upon having just concluded teaching as John recorded in 13:1 to 14:14 (KJV) of his gospel.  The commandments of Christ aren't those written on tablets of stone, rather they're written on our hearts and accomplished by the power of the indwelling Holy Spirit.
In John 13:34 (KJV) Jesus instructed that we're to love one another as He loved [us] and in John 15:10 the disciple records Jesus saying: "If ye keep my commandments, ye shall abide in my love,…"  We must read, study and search the New Testament, specifically the Gospels, to by the leading of the Holy Spirit: find, understand and embrace the commandments of Christ.  For instance, in Matthew 5:44 (KJV) Christ tells us to love our enemies.  Jesus also said, "Greater love hath no man than this, that a man lay down his life for his friends." (John 15:13ff KJV)
If we truly love Christ, we strive to be obedient to His Word.  That means we don't embrace the sin and debauchery found in Leviticus 20:1-27 (KJV), which the enemy of our souls has deceived people into believing the acceptance of 'abomination' is love.  God, forbid.  We love Christ by being obedient to His word and by having compassion for the multitude as Christ did in Matthew 9:36-38 (KJV).
We show our love by denying ourselves.  Another is by loving the unsaved enough to share the gospel of salvation with them as Christ directed us in Matthew 28:18-20 (KJV).  We love others.  If we do not love a person, we're not inclined or willing to share salvation with them.  If we love Christ it pains us to know we have family and friends who are living in sin.  If we love Christ we have a heart for the unsaved.
When we love Christ, we are committed to keeping His commandments.  But, we cannot keep them if we do not know them.  His commandments focus on the condition of our heart and our faith.  Let us commit to examine our hearts and have the Holy Spirit show us if we truly love Christ.
READ:
Matthew 15:7-9 KJV
7 Ye hypocrites, well did Esaias prophesy of you, saying,
8 This people draweth nigh unto me with their mouth, and honoureth me with their lips; but their heart is far from me.
9 But in vain they do worship me, teaching for doctrines the commandments of men.
About the Author
Mychal S. Massie is an ordained minister who spent 13 years in full-time Christian Ministry. Today he serves as founder and Chairman of the Racial Policy Center (RPC), a think tank he officially founded in September 2015. RPC advocates for a colorblind society. He was founder and president of the non-profit "In His Name Ministries." He is the former National Chairman of a conservative Capitol Hill think tank; and a former member of the think tank National Center for Public Policy Research. Read entire bio here