Dying Is Not A Random Act – Sunday Thought For The Day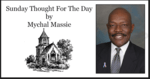 The globally reknown Biblical Apologist Dr. Ravi Zacharias was recently called home to the Lord. In an instant Ravi went from crushing, debilitating pain, and suffering to the unfathomably welcoming presence of God Almighty – whom he had preached and taught worldwide for nearly 50 years.
There are without question many who have asked or surely will ask, why God let Dr. Zacharias die so soon and so cruelly? He was only 74-years old and he succumbed to a violent hyper-aggressive form of cancer.
It is paramount to understand that illness is the resulting consequence of the sin of disobedience in the Garden of Eden. (See: Genesis 3:1-24 KJV)
I would also argue that the appointed number of days for Ravi were always going to be 74 years, 55 days.
I argue it is important to understand this because in so doing we understand that everything is ordered by God Himself even unto the exact second of our passing from this earth.
With God there is no random act or chaotic act such as the seemingly sudden and perhaps unexpected way many people die. If such were the case, it would mean things were taking place that were out of God's control, and said is not and cannot be the case, because if it were we would be subject to events – not God's preordained will and order.
I further argue that one of the greatest, most insidious, unwitting acts of selective atheism is failing to realize our deaths are not random – they are scheduled. Many Christians fail to realize same.
My point is this. We pass away based upon the specific number of days God has ordained for us. The contributing factor my be illness, injury or any of near countless other potentialities. But in the final analysis while any of the aforementioned my be the contributing factor, the event itself is ordained of God not the ailment, illness or accident.
That is the reason we must be prepared for eternity ahead of time. It is the reason that we must be able to say with absolute confidence: "When I pass, no matter the causal factor(s) for same, I am going to be immediately with the Lord and there will I spend eternity worshiping and praising Him."
READ:
Job 14:1-5; Matthew 10:30 (KJV)
14 Man that is born of a woman is of few days and full of trouble.
2 He cometh forth like a flower, and is cut down: he fleeth also as a shadow, and continueth not.
3 And doth thou open thine eyes upon such an one, and bringest me into judgment with thee?
4 Who can bring a clean thing out of an unclean? not one.
5 Seeing his days are determined, the number of his months are with thee, thou hast appointed his bounds that he cannot pass;
Matthew 10:30 (KJV)
30 But the very hairs of your head are all numbered.
About the Author
Mychal S. Massie is an ordained minister who spent 13 years in full-time Christian Ministry. Today he serves as founder and Chairman of the Racial Policy Center (RPC), a think tank he officially founded in September 2015. RPC advocates for a colorblind society. He was founder and president of the non-profit "In His Name Ministries." He is the former National Chairman of a conservative Capitol Hill think tank; and a former member of the think tank National Center for Public Policy Research. Read entire bio here