Eternity With My God, My Lord and My Mom – Sunday Thought For The Day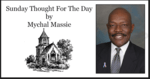 Today is Mother's Day, and I am blessed to have had the mother I did. She sacrificed mightily to raise me and to give me every opportunity possible. She instilled in me a love of learning and the DNA to stand for that which is right and just.
My mother went to be with the Lord September 20, 2013. She was 94 years old. My mother's struggle and sacrifice to raise me was not the result of bad decisions she had made. It was not the result of immorality, alcohol or drugs. It was because of the reality of life.
When I was 10 years old my mother had what called at that time, a complete nervous breakdown, and yet somehow by the grace of God she refused to let her illness define me. She never allowed her emotional illness to impact what she saw as her responsibility for me.
As I look back in hindsight, I realize that the single most important thing my late mother did for me was to accept Christ as her Savior. My reason for saying that is simple; because she gave her life to Christ, when I pass on I will not only be in the presence of my Lord and my God, I will be reunited with my mother. She will be of a sound mind with a resurrected body. How great a gift. But, I can only say that because I too have accepted Christ as my Savior.
We have our mother's here on earth, but to share heaven with them for all of eternity is the most wonderful gift of God through Christ Jesus. My question to you today is, can you say with confidence and assurance the same thing?
READ: Proverbs 31:10-31 (KJV)
10 Who can find a virtuous woman? for her price is far above rubies.
11 The heart of her husband doth safely trust in her, so that he shall have no need of spoil.
12 She will do him good and not evil all the days of her life.
13 She seeketh wool, and flax, and worketh willingly with her hands.
14 She is like the merchants' ships; she bringeth her food from afar.
15 She riseth also while it is yet night, and giveth meat to her household, and a portion to her maidens.
16 She considereth a field, and buyeth it: with the fruit of her hands she planteth a vineyard.
17 She girdeth her loins with strength, and strengtheneth her arms.
18 She perceiveth that her merchandise is good: her candle goeth not out by night.
19 She layeth her hands to the spindle, and her hands hold the distaff.
20 She stretcheth out her hand to the poor; yea, she reacheth forth her hands to the needy.
21 She is not afraid of the snow for her household: for all her household are clothed with scarlet.
22 She maketh herself coverings of tapestry; her clothing is silk and purple.
23 Her husband is known in the gates, when he sitteth among the elders of the land.
24 She maketh fine linen, and selleth it; and delivereth girdles unto the merchant.
25 Strength and honour are her clothing; and she shall rejoice in time to come.
26 She openeth her mouth with wisdom; and in her tongue is the law of kindness.
27 She looketh well to the ways of her household, and eateth not the bread of idleness.
28 Her children arise up, and call her blessed; her husband also, and he praiseth her.
29 Many daughters have done virtuously, but thou excellest them all.
30 Favour is deceitful, and beauty is vain: but a woman that feareth the Lord, she shall be praised.
31 Give her of the fruit of her hands; and let her own works praise her in the gates.
About the Author
Mychal S. Massie is an ordained minister who spent 13 years in full-time Christian Ministry. Today he serves as founder and Chairman of the Racial Policy Center (RPC), a think tank he officially founded in September 2015. RPC advocates for a colorblind society. He was founder and president of the non-profit "In His Name Ministries." He is the former National Chairman of a conservative Capitol Hill think tank; and a former member of the think tank National Center for Public Policy Research. Read entire bio here