Faith Is Not Private – Sunday Thought For The Day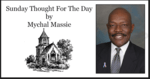 Satan is a liar and he uses lies to deceive people into disobedience regarding what Christians are biblically instructed to be and live.  One such lie is: "My faith is private between me and the Lord."  Our faith is not private and almost without exception every time I've heard a person utter said words, I would ultimately also learn they weren't saved.
As recorded by Mark and Luke, Jesus not only said no man lights a candlestick and then hides it so its light cannot be seen or shared, but both writers also include Christ's dire warnings for those who do.
Barnes' Notes On The Bible commentary explains it best pursuant to why those who make such a claim are very likely unsaved.
Barnes writes: Let your light so shine … – Let your holy life, your pure conversation, and your faithful instructions, be everywhere seen and known. Always, in all societies, in all business, at home and abroad, in prosperity and adversity, let it be seen that you are real Christians.
That they may see your good works – The proper motive to influence us is not simply that we may be seen (compare Matthew 6:1), but it should be that our heavenly Father may be glorified. The Pharisees acted to be seen of men, true Christians act to glorify God, and care little what people may think of them, except as by their conduct others may he brought to honor God, yet they should so live that people may see from their conduct what is the proper nature of their religion.
Glorify your Father – Praise, or honor God, or be led to worship him. Seeing in your lives the excellency of religion, and the power and purity of the gospel, they may be won to be Christians also, and give praise and glory to God for his mercy to a lost world.
We learn here:
1. that religion, if it exists, cannot be concealed.
2. that where it is not manifest in the life, it does not exist.
3. that "professors" of religion, who live like other people, give evidence that they have never been truly converted.
4. that to attempt to conceal or hide our Christian knowledge or experience is to betray our trust, injure the cause of piety, and to render our lives useless. And,
5. that good actions will be seen, and will lead people to honor God. If we have no other way of doing good – if we are poor, and unlearned, and unknown yet we may do good by our lives. No sincere and humble Christian lives in vain. The feeblest light at midnight is of use.
"How far the little candle throws his beams!
So shines a good deed in a naughty world!"
It's not surprising that demons from the pit of hell blind people to the revelatory truth of what it means to be a true child of God, how true christians are to interact with other Christians and how they are to interact with the unsaved world.
We must not harden our hearts to the truth when it's shared with us by Godly men and women.
Where we spend eternity depends upon our obedience to instruction.  Christ's last words on earth were instructions to share our faith.  To not do so is to be willfully disobedient.  And to be willfully disobedient, is to risk the wrath of God, including being eternally separated from Him.
READ:
Matthew 5:13-16 KJV
13 Ye are the salt of the earth: but if the salt have lost his savour, wherewith shall it be salted? it is thenceforth good for nothing, but to be cast out, and to be trodden under foot of men.
14 Ye are the light of the world. A city that is set on an hill cannot be hid.
15 Neither do men light a candle, and put it under a bushel, but on a candlestick; and it giveth light unto all that are in the house.
16 Let your light so shine before men, that they may see your good works, and glorify your Father which is in heaven.
About the Author
Mychal S. Massie is an ordained minister who spent 13 years in full-time Christian Ministry. Today he serves as founder and Chairman of the Racial Policy Center (RPC), a think tank he officially founded in September 2015. RPC advocates for a colorblind society. He was founder and president of the non-profit "In His Name Ministries." He is the former National Chairman of a conservative Capitol Hill think tank; and a former member of the think tank National Center for Public Policy Research. Read entire bio here