Faith Is Strengthened or Abandoned – Sunday Thought For The Day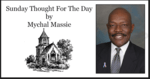 As I was reading my bible the other morning, the thought came to me that: In difficult trials our faith is either strengthened or abandoned.
It's during the most arduous and heart wrenching times that we either bend the knees of our heart and lean wholly on the Lord or we lean on our own strength and understanding. If we truly have faith we're confident that God will answer our prayers, but we're secure in allowing Him to answer them according to His divine will and purpose for us.
Succumbing to fear and panic leads us to asking God for help but not trusting Him to answer our prayers. Faith is committing our needs to God in the darkest hours not just when things appear to be going smoothly.
Sadly, too often our prayers to God during our trials are merely perfunctory. We pray, but we pray out of selfish desire not in faith believing. We pray, but we try to micromanage the situation.
Worst still, if God doesn't answer as we want, expect, demand or think He should, we become angry and/or bitter. We think that He didn't answer our prayer(s). We don't stop to think that God knew answering our prayer(s) the we wanted was not in our best interest.
We don't realize that God's omniscience doesn't cease to be when it comes to our situation. We fail to remember that: "…all things work together for good to them that love God, to them who are the called according to His purpose." (Romans 8:28 KJV) We fail to realize that the "all things" sometimes includes not getting the answer to prayer we think is best for us.
God cannot lie. He has promised to answer the prayers of His children. But He has never said His answer would be what we think we want/need or that He would answer precisely as we think He should. To claim otherwise is a lie of the devil.
God delights in answering our prayers; but when we pray with surrender that His will be done – it is then that we see God's hand working and moving in ways that are truly miraculous.
There have been no few times that we've prayed and God hasn't answered for what seemed like an eternity. But it's during those times that our faith and trust in God has been rewarded with a clearer understanding of Him. It's when that happens that we learn to truly trust God and wait on Him.
God doesn't make us wait just to torture us nor does God work in a vacuum. Often He has us wait in the fulfilling of His plan for us. Other times it's to fulfill His plan for those around us. But it's always that He will receive glory, praise and honor. The Apostles prayed and yet everyone of them died excruciating deaths with the exception of John. Yet God was glorified in their deaths as He had been glorified in their lives.
If we're truly walking with the Lord we learn to trust Him regardless of how a situation looks to our finite eyes. We learn to ask God for the peace that comes from the Holy Spirit as we wait patiently and faithfully on Him. Learning to give thanks to God when He doesn't answer our prayer(s) the way we want and/or when we want is maturing in the Lord. It is the strengthening of our faith. Learning to rejoice in the Lord as we wait is learning that His grace is sufficient. It's also learning that God sees the end of all things through time to eternity. We can only see what has been.
READ: Philippians 4:4-9 (KJV)
4 Rejoice in the Lord always: and again I say, Rejoice.
5 Let your moderation be known unto all men. The Lord is at hand.
6 Be careful for nothing; but in every thing by prayer and supplication with thanksgiving let your requests be made known unto God.
7 And the peace of God, which passeth all understanding, shall keep your hearts and minds through Christ Jesus.
8 Finally, brethren, whatsoever things are true, whatsoever things are honest, whatsoever things are just, whatsoever things are pure, whatsoever things are lovely, whatsoever things are of good report; if there be any virtue, and if there be any praise, think on these things.
9 Those things, which ye have both learned, and received, and heard, and seen in me, do: and the God of peace shall be with you.
About the Author
Mychal S. Massie is an ordained minister who spent 13 years in full-time Christian Ministry. Today he serves as founder and Chairman of the Racial Policy Center (RPC), a think tank he officially founded in September 2015. RPC advocates for a colorblind society. He was founder and president of the non-profit "In His Name Ministries." He is the former National Chairman of a conservative Capitol Hill think tank; and a former member of the think tank National Center for Public Policy Research. Read entire bio here