Faith – Sunday Thought For The Day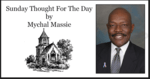 Praying is one thing, but praying in faith believing is another. You see it's not my prayer that I believe in as such; I believe in Him to whom I pray.
Sometimes what we are praying for isn't God's ultimate plan for us. Having faith means trusting God to know best, which means we must trust God unequivocally.
Answered prayer is not a roll of the dice. God is not some cosmic entity driven by human emotions like the television make believe beings. He is God. He is the creator and sustainer of heaven and earth. He is omniscient, omnipresent and omnipotent.
At times it seems that our prayer is answered before it leaves our mouth. At other times, we pray for years before we see our prayer(s) answered.
At all times we must ask God to answer our prayers in a way that brings glory and honor to Him. I have found that there are times not having my prayers answered the way I think I want them answered is the answer to my prayer. At times God is strengthening our faith by having us wait to see our prayer(s) answered. But, we must always be surrendered to the unwavering desire that our answered prayer will honor God.
In the Lord's prayer Jesus instructed us to pray: "Thy kingdom come, thy will be done in earth, as it is in heaven." (Matthew 6:10 KJV) The writer of Hebrews wrote: "Now faith is the substance things hoped for, the evidence of things not seen." (Hebrews 11:1 KJV)
Faith is communicating with God and not just when we want or need something. Faith is trusting and involving God in every facet of our life and being.
READ: Hebrews 11:6 (KJV)
6 But without faith it is impossible to please him: for he that cometh to God must believe that he is, and that he is a rewarder of them that diligently seek him.
Additional recommended reading: Hebrews 11:1 thru Hebrews 12:2 (KJV)
About the Author
Mychal S. Massie is an ordained minister who spent 13 years in full-time Christian Ministry. Today he serves as founder and Chairman of the Racial Policy Center (RPC), a think tank he officially founded in September 2015. RPC advocates for a colorblind society. He was founder and president of the non-profit "In His Name Ministries." He is the former National Chairman of a conservative Capitol Hill think tank; and a former member of the think tank National Center for Public Policy Research. Read entire bio here