False Teachers Usually Appear Truthful – Sunday Thought For The Day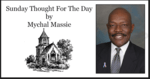 Billy Sunday was a 19th century professional baseball player, who would become one of the most prominent American Christian evangelists during the early part of the 20th century.  He once said: "I have more respect for the devil than for some preachers I have met; the devil believes the Bible is the Word of God!"  I could not agree with him more.
As an ordained minister I make no ifs, ands or buts about it; I'm not perfect; but I am an unwavering and unapologetic believer in the whole Word of God as it's found in my tattered King James Version of the Bible.  And I will defend it with my last breath.
Nothing persuades me that every man identifying as a minister must believe the Word of God in toto or they're preaching falsity.  If the person claiming to be called by God to preach doesn't believe the Word of God, they cannot preach the Word of God in truth.  That especially goes for the women, homosexuals and unbelieving men.  Scripture is explicit per them not belonging in the pulpit.  There are many falsities taught by false teachers leading people astray from the pulpit.  That said, if I were the devil, I would make use of so-called preachers who outwardly claim to believe the Word of God, but in reality they only marginally believe.
One doesn't believe the Word of God if they don't preach it, if they do not live by it or if they knowingly preach what the bible doesn't say.  The Psalmist wrote in Psalm 119:89 (KJV), the Word of God is settled and immutable forever, how can such people be anything other than untruthful servants of the devil?  Satan continues to successfully mislead people through false teachers and through a variety of different ways, including to changing the very Word of God.
So-called preachers, picking and choosing what parts of the bible they will believe/follow and what parts they will ignore, is the actions of deceivers.  There's no middle ground. One either believes all or they believe none.  And, trust me, God takes a very dim view of such treachery.
READ:
2 Corinthians 11:13-15 KJV
13 For such are false apostles, deceitful workers, transforming themselves into the apostles of Christ.
14 And no marvel; for Satan himself is transformed into an angel of light.
15 Therefore it is no great thing if his ministers also be transformed as the ministers of righteousness; whose end shall be according to their works.
About the Author
Mychal S. Massie is an ordained minister who spent 13 years in full-time Christian Ministry. Today he serves as founder and Chairman of the Racial Policy Center (RPC), a think tank he officially founded in September 2015. RPC advocates for a colorblind society. He was founder and president of the non-profit "In His Name Ministries." He is the former National Chairman of a conservative Capitol Hill think tank; and a former member of the think tank National Center for Public Policy Research. Read entire bio here