Fear For Many or Pity Many – Sunday Thought For The Day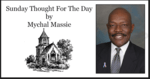 The following was forwarded to me Friday past; I do not know who said it: "I fear for many professing Christians.  I see no sign of fighting in them, much less of victory.  They never strike one stroke on the side of Christ.  They are at peace with His enemies.  They have no quarrel with sin.  I warn you, this is not Christianity."
That is a powerful statement by way of astute observation; that said, I would add: I also pity many professing Christians.
I pity them because, so many professing Christians have no clue what it is to be a Christian.  They're weak and feckless.  Many, as I often say, are biblically illiterate and even more are biblical atheists, with many of the latter standing in the pulpit.  Even more appalling, today many professing Christians are the very ones who scorn truth-tellers because, the "Truth" offends them.
Weakness, disobedience and biblical atheism is preached from more pulpits than messages about sin, the blood of Christ and repentance.  Many pastors do not preach; they have bible classes and call it preaching.  Those who do not understand the difference are probably sitting through same.
Many professing Christians in America couldn't survive under the oppression true Christians suffer through in numerous other countries.  Here people equate being a Christian with perfunctory church attendance and parroting a few 'religious' references.  To them the Word of God is malleable and milquetoast.  It isn't viewed as: "…quick, and powerful, and sharper than any two-edged sword, piercing even to the dividing asunder of soul and spirit, and of the joints and marrow, and is a discerner of the thoughts and intents of the heart." (Hebrews 4:12 KJV)
Many professing Christian churches have become little more than social cliques that provide coffee and free danish.  The "fear of the Lord", i.e., "reverence for and awe of God," is replaced with empty repetitive religious gestures.  True belief in the power of prayer and true belief in miracles has been substituted with what basically amounts to fatalism, albeit its seldom called same.  Faith is often referenced, but in many churches it's a metaphor.  Love of the world, love for the world, lust of the flesh, refusal to separate from the world, fear and no real understanding of what it is to put on the whole armour of God are common traits seen in many professing Christians.  Love is spoken about, but true Christlike love for the lost that motivates believers to reach them for Christ has been exchanged for the heretical belief that love is the acceptance and tolerance of that which God calls an abomination.
How many professing Christian churches in America today can we truthfully point to, that mirror the first century Church in Jerusalem more than they do the churches led by teachers not really preaching at all.  That both concerns me and causes me to pity them.
READ:
Isaiah 40:28-31 KJV
28 Hast thou not known? hast thou not heard, that the everlasting God, the Lord, the Creator of the ends of the earth, fainteth not, neither is weary? there is no searching of his understanding.
29 He giveth power to the faint; and to them that have no might he increaseth strength.
30 Even the youths shall faint and be weary, and the young men shall utterly fall:
31 But they that wait upon the Lord shall renew their strength; they shall mount up with wings as eagles; they shall run, and not be weary; and they shall walk, and not faint.
About the Author
Mychal S. Massie is an ordained minister who spent 13 years in full-time Christian Ministry. Today he serves as founder and Chairman of the Racial Policy Center (RPC), a think tank he officially founded in September 2015. RPC advocates for a colorblind society. He was founder and president of the non-profit "In His Name Ministries." He is the former National Chairman of a conservative Capitol Hill think tank; and a former member of the think tank National Center for Public Policy Research. Read entire bio here