For The Joy Set Before Him – Sunday Thought For The Day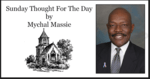 "Hebrews 12:2 reads: "Looking unto Jesus, the author and finisher of our faith, who for the joy that was set before Him endured the cross, despising the shame, and is set down at the right hand of the throne of God." (KJV)
What, some may ask, was the joy that was set before Him that would allow Him to willingly suffer the death He was to face, even though He Himself was innocent? I believe we are His joy; us and all those who accepted Him as Savior before us and all those who will accept Him as Savior in the time remaining before His return.
Resurrection Day is a special day to me, and it becomes even more so as I grow older and become more aware of my own mortality. I'm thankful that when the Spirit of God beckoned me I accepted God's Son, Jesus Christ, which is the only way to enjoy life eternal with Him in heaven.
"But, it's not just about knowing without question that I will one day be in heaven with Him — it's about having the Holy Spirit with me here on earth. It's about having freedom and certainty at the same time. It's about knowing that no matter how bad it gets here on earth (and it is going to get bad), I need not worry because, His scriptures tell us how it all ends. Thus, when people comment that they don't know how I can have such confidence in the face of the teeming caldron of decay, immorality, and collapse that confronts us, I tell them that I'm a child of the 'King' and I've read the Book. I know how it ends, and we've won.
"I pray each and every one of you will reflect on just what the death and resurrection of Jesus Christ, means to you.
"I've heard it said: "Today we are living in the parentheses of God's patience; but one day the patience of God will be finished and the cup of iniquity will be full. And Christ Jesus, the Judge of all the earth, will come and through all of the scenarios in the Book of The Revelation, there will be judgement upon the earth."
This Resurrection Day, I remind those who haven't accepted Christ as Savior that: "…behold now is the accepted time; behold, now is the day of salvation." (KJV)
The Resurrection of Christ from the grave, is not just about salvation, it's about the grace and mercy of time before the coming wrath of God. The question we must all answer is: "Will we accept Jesus as Savior while we have time?"
READ:
Matthew 28:1-10 KJV
1 In the end of the sabbath, as it began to dawn toward the first day of the week, came Mary Magdalene and the other Mary to see the sepulchre.
2 And, behold, there was a great earthquake: for the angel of the Lord descended from heaven, and came and rolled back the stone from the door, and sat upon it.
3 His countenance was like lightning, and his raiment white as snow:
4 And for fear of him the keepers did shake, and became as dead men.
5 And the angel answered and said unto the women, Fear not ye: for I know that ye seek Jesus, which was crucified.
6 He is not here: for he is risen, as he said. Come, see the place where the Lord lay.
7 And go quickly, and tell his disciples that he is risen from the dead; and, behold, he goeth before you into Galilee; there shall ye see him: lo, I have told you.
8 And they departed quickly from the sepulchre with fear and great joy; and did run to bring his disciples word.
9 And as they went to tell his disciples, behold, Jesus met them, saying, All hail. And they came and held him by the feet, and worshipped him.
10 Then said Jesus unto them, Be not afraid: go tell my brethren that they go into Galilee, and there shall they see me.
About the Author
Mychal S. Massie is an ordained minister who spent 13 years in full-time Christian Ministry. Today he serves as founder and Chairman of the Racial Policy Center (RPC), a think tank he officially founded in September 2015. RPC advocates for a colorblind society. He was founder and president of the non-profit "In His Name Ministries." He is the former National Chairman of a conservative Capitol Hill think tank; and a former member of the think tank National Center for Public Policy Research. Read entire bio here