Forgiving A True Injustice – Sunday Thought For The Day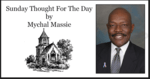 There numerous accounts in both the scriptures and throughout history of Christians who are esteemed for the great faith they showed in death.  This past week I've been ruminating upon one such person in particular.  That person is Stephen, who was the first martyr.
The Apostle Luke author of 'The Book of the Acts' said, Stephen was a man full of faith and the Holy Ghost.  We are not provided an exhaustive account of Stephen's life, but Luke makes it a point to note that in addition to being full of faith and the Holy Ghost, Stephen truly demonstrated the power of God.
With that said, it's the power of God that Stephen exampled in the culminating moments of his life, which Luke very succinctly makes mention, that has gripped my thoughts this past week.
Stephen died on the field of service not the field of battle.  As he was being stoned to death by those he was trying to reach for Christ, he called out to Christ Jesus to receive his spirit.  Then in the very closing minutes of his life, he prayed aloud, asking God to "lay not this sin to their charge."
I point to this as notable, because how often, how many hundreds and thousands of times, have we and will we pray the words of Christ: "…And forgive us our debts, as we forgive our debtors…" (SEE: Matthew 7:12 KJV)
You see, it is one thing to claim we forgive as long as doing so doesn't come with a price of great personal value.  How many people, specifically Christians, went to their graves refusing to forgive a person(s) for what they considered a condemnable violation against them?  Those who stoned Stephen were as guilty of wrongdoing as there could ever be, but Stephen, as he looked heavenward into the face of Jesus who awaited him in Glory, could not find it within himself to condemn, but rather with his last breathes he prayed for their forgiveness.
I pray that I can truly love the unsaved and my "debtors" as Stephen did his.  It is one thing to say we forgive when it only costs us something we can conveniently live without.  It is another when it costs us something we cannot replace.
True forgiveness isn't something that we can fake.  We either forgive and forget as God does for all who accept Christ as Savior and Lord or we act as our own god, determining who deserves forgiveness and who doesn't.
READ:
Acts 7:54-60 KJV (For complete account read: Acts 7:1-53 KJV)
54 When they heard these things, they were cut to the heart, and they gnashed on him with their teeth.
55 But he, being full of the Holy Ghost, looked up stedfastly into heaven, and saw the glory of God, and Jesus standing on the right hand of God,
56 And said, Behold, I see the heavens opened, and the Son of man standing on the right hand of God.
57 Then they cried out with a loud voice, and stopped their ears, and ran upon him with one accord,
58 And cast him out of the city, and stoned him: and the witnesses laid down their clothes at a young man's feet, whose name was Saul.
59 And they stoned Stephen, calling upon God, and saying, Lord Jesus, receive my spirit.
60 And he kneeled down, and cried with a loud voice, Lord, lay not this sin to their charge. And when he had said this, he fell asleep.
About the Author
Mychal S. Massie is an ordained minister who spent 13 years in full-time Christian Ministry. Today he serves as founder and Chairman of the Racial Policy Center (RPC), a think tank he officially founded in September 2015. RPC advocates for a colorblind society. He was founder and president of the non-profit "In His Name Ministries." He is the former National Chairman of a conservative Capitol Hill think tank; and a former member of the think tank National Center for Public Policy Research. Read entire bio here