Forgiving and Not Forgetting – Sunday Thought For The Day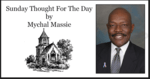 Have you ever heard someone who professes to be a Christian say that they have forgiven someone for something, but that they will never forget? I certainly have.
Let me point out that isn't being Christlike. I don't have a statistic, but in my life as a Christian, I've seen many relationships and homes destroyed – not because a particular offense wasn't said to be forgiven – but because is was never put behind.
It sounds counter-intuitive to say, but genuine forgiveness includes putting an offense(s) behind us and in that respect forgetting it.
Spouses go through marital counseling to overcome a myriad of issues, but often the scars are never fully healed because the offended spouse believes they are unable to forget. My position is this. God forgave me and placed my offense behind Him to recall it no more. And please don't tell me that's different.
Dredging up the past and reminding someone about something they have done isn't Godly forgiveness, it's Satan's way of not forgiving, i.e., destroying relationships.
I've seen many incredibly strong and loving Christian relationships and the one thing they all have in common is that they take being like Jesus seriously. And being like Jesus means not just forgiving, but putting behind, i.e., forgetting.
READ: Isaiah 38:15-17 (KJV)
16 O Lord, by these things men live, and in all these things is the life of my spirit: so wilt thou recover me, and make me to live.
17 Behold, for peace I had great bitterness: but thou hast in love to my soul delivered it from the pit of corruption: for thou hast cast all my sins behind thy back.
About the Author
Mychal S. Massie is an ordained minister who spent 13 years in full-time Christian Ministry. Today he serves as founder and Chairman of the Racial Policy Center (RPC), a think tank he officially founded in September 2015. RPC advocates for a colorblind society. He was founder and president of the non-profit "In His Name Ministries." He is the former National Chairman of a conservative Capitol Hill think tank; and a former member of the think tank National Center for Public Policy Research. Read entire bio here