'Fret Not Thyself' Is A Directive Not An Option – Sunday Thought For The Day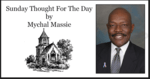 Sadly, far too many Christians worry and fret about things that they shouldn't, despite the fact that God's Word tells us don't.  Specifically, I'm speaking about those who seem to think they're showing a form of piety by wringing their hands and lamenting the wickedness in the world today and the perpetrators of same.
Personally, I view  the wickedness in the world today as a battle of distraction intended to have true Christians take their eyes off the Lord and the work we are to be doing.  It's also disobedient to His Word.  Let me explain.
In Psalm 37:1 (KJV) we're definitively told: "Fret not thyself because of evil doers…"  Another way of saying it is, we're not to be discontented by evil.
We must understand that Satan is not just a liar and the father of lies; we must understand that means every fiber of his being is based upon lies and the promotion of lies.  His every purpose is to lead the inattentive, unsuspecting and unaware astray in order to destroy them physically and spiritually.  It's no less important for us to understand that Christians comprise membership in these groups – the inattentive, unsuspecting and the unaware.
The enemy of our souls wants us worried and discontented about what's taking place, because when that happens our attention isn't on the Word of God and the frank message of Jesus that "these things must needs be."
The hearts of men were already "deceitful above all things, and desperately wicked," thus to grow more so as man turns further from Christ isn't to be a surprise.  We have the assurance of God that we will be will spared His wrath, because of our salvation in Christ.  Can God lie?  Absolutely not.
His word is immutable.  So why would we fall pray to fear and discontent – even if it's feigned because one thinks it makes them appear more spiritual.
When we spend time worrying and fretting about wicked behavior around us, our minds and hearts are not fixed on God's promises.  We ignore the truth and instruction of His Word.  We allow ourselves to become fertile ground for Satan to lead us into fear; and fear is nothing less than unbelief.  It's our rejection of God's promises.
Satan is a defeated enemy.  All he can do is trouble us, if we allow.  The Word of God has made it clear that the world will wax more wicked leading up to the time of Christ's return to rapture the saved.  We either believe God or we don't.  That's a message we take with us into the fields that are white onto harvest, as we labor in the Lord's harvest reaching people for Christ.
READ:
Psalm 37:1-20 KJV
37 Fret not thyself because of evildoers, neither be thou envious against the workers of iniquity.
2 For they shall soon be cut down like the grass, and wither as the green herb.
3 Trust in the Lord, and do good; so shalt thou dwell in the land, and verily thou shalt be fed.
4 Delight thyself also in the Lord: and he shall give thee the desires of thine heart.
5 Commit thy way unto the Lord; trust also in him; and he shall bring it to pass.
6 And he shall bring forth thy righteousness as the light, and thy judgment as the noonday.
7 Rest in the Lord, and wait patiently for him: fret not thyself because of him who prospereth in his way, because of the man who bringeth wicked devices to pass.
8 Cease from anger, and forsake wrath: fret not thyself in any wise to do evil.
9 For evildoers shall be cut off: but those that wait upon the Lord, they shall inherit the earth.
10 For yet a little while, and the wicked shall not be: yea, thou shalt diligently consider his place, and it shall not be.
11 But the meek shall inherit the earth; and shall delight themselves in the abundance of peace.
12 The wicked plotteth against the just, and gnasheth upon him with his teeth.
13 The Lord shall laugh at him: for he seeth that his day is coming.
14 The wicked have drawn out the sword, and have bent their bow, to cast down the poor and needy, and to slay such as be of upright conversation.
15 Their sword shall enter into their own heart, and their bows shall be broken.
16 A little that a righteous man hath is better than the riches of many wicked.
17 For the arms of the wicked shall be broken: but the Lord upholdeth the righteous.
18 The Lord knoweth the days of the upright: and their inheritance shall be for ever.
19 They shall not be ashamed in the evil time: and in the days of famine they shall be satisfied.
20 But the wicked shall perish, and the enemies of the Lord shall be as the fat of lambs: they shall consume; into smoke shall they consume away.
About the Author
Mychal S. Massie is an ordained minister who spent 13 years in full-time Christian Ministry. Today he serves as founder and Chairman of the Racial Policy Center (RPC), a think tank he officially founded in September 2015. RPC advocates for a colorblind society. He was founder and president of the non-profit "In His Name Ministries." He is the former National Chairman of a conservative Capitol Hill think tank; and a former member of the think tank National Center for Public Policy Research. Read entire bio here