From Slavery To Riches To The Den of Lions – Sunday Thought For The Day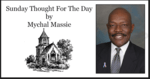 Most people are familiar with the account of Daniel in the den of lions.  Albeit, I suspect many claiming to be Christians view the account as little more than a story.  Owing to computers, smart phones, and digital tablets – for no few people today the bible is little more than a dust collector; and that presumes they even own one.  But I digress.
Daniel was taken into captivity as a child by King Nebuchadnezzar.  He was quickly recognized for his wisdom, learnedness, character and handsomeness.  Later, he was amongst those selected to be brought into the king's palace.  This highly desirable position.  In preparation for this service, the king selected and dictated what the daily food and drink would be for those chosen.  The strict dietary regimen established by the king, was in his mind, intended to ensure the appearance and complexion of the youths chosen for said service.
But, Daniel refused to defile himself with any portion of the king's food and drink.  Daniel challenged the overseer of the eunuchs, that he along with Shadrach, Meshach, and Abednego be allowed food and drink of their choosing that wasn't defiled by pagan practices.  After ten days they would compare the complexion and appearance of Daniel and the other three with that of those eating the diet dictated.  Suffice it to say, Daniel and his three companions were superior in their appearance.  Daniel went on to establish himself as exemplary on every quantifiable level.  He earned the trust, favor and respect of the king.  But, then came a decree that for 30 days petitions, i.e., prayer(s) could be made only to the king.  Anyone violating the decree would be cast into the den of lions.
This is where many Christians today fall short.  They, like Daniel, suffered a trying beginning.  They've worked hard and God has blessed them with increase.  So blessed in fact, that they would rather bow to the demands of godless reprobates than risk losing their job, their membership at the gym, their club or tickets to the big game.  They fear losing their standing amongst their worldly peers.
Daniel feared losing nothing, but the favor of his God.  People today, and I speak specifically to those who claim to be Christians, fear losing 'things', their job and/or career more than they fear displeasing God.  They rationalize and convince themselves that it's important to maintain certain personal standards so as too better serve God.
Daniel held nothing more important or desirable than to spend time in prayer each day.  He didn't hide to pray before; he wasn't going to be shamed, threatened or bullied into hiding to pray based on the decree of a heathen tyrant.
We know how it turned out for Daniel.  God miraculously sealed the mouths of the lions and those who plotted against him were cast into the den of lions and eaten.
It's time for Christians to stop cowering in fear and to stop valuing those things which have zero eternal worth.  Christians who are afraid of losing things and positions are not Godly believers.  (See: Hebrews 11:6 KJV)  They are weak and faithless – committed to possessions more than they are to God; and that includes their job.
Until we are prepared to lose everything, including our lives rather than defile ourselves because of fear or selfish-desire, we cannot please God.  God cannot and will not bless us if we aren't willing to put Him first.
My Father God in heaven: I pray that I will never value or desire any object, person, job or career more than I desire to be faithful and obedient to you.  Father God, I want you to have primacy above all else in my life.  Lord God, I want nothing more than I want you. Father, let my love for you be exampled by my obedience to you and my singleness of purpose to you.  In the name of Jesus Christ, my Lord and Savior, I pray.  Amen.
READ:
Philippians 3:7-10; 15-20 KJV
7 But what things were gain to me, those I counted loss for Christ.
8 Yea doubtless, and I count all things but loss for the excellency of the knowledge of Christ Jesus my Lord: for whom I have suffered the loss of all things, and do count them but dung, that I may win Christ,
3:15-21 KJV
15 Let us therefore, as many as be perfect, be thus minded: and if in any thing ye be otherwise minded, God shall reveal even this unto you.
16 Nevertheless, whereto we have already attained, let us walk by the same rule, let us mind the same thing.
17 Brethren, be followers together of me, and mark them which walk so as ye have us for an ensample.
18 (For many walk, of whom I have told you often, and now tell you even weeping, that they are the enemies of the cross of Christ:
19 Whose end is destruction, whose God is their belly, and whose glory is in their shame, who mind earthly things.)
20 For our conversation is in heaven; from whence also we look for the Saviour, the Lord Jesus Christ:
About the Author
Mychal S. Massie is an ordained minister who spent 13 years in full-time Christian Ministry. Today he serves as founder and Chairman of the Racial Policy Center (RPC), a think tank he officially founded in September 2015. RPC advocates for a colorblind society. He was founder and president of the non-profit "In His Name Ministries." He is the former National Chairman of a conservative Capitol Hill think tank; and a former member of the think tank National Center for Public Policy Research. Read entire bio here