God Is Love, But… – Sunday Thought For The Day.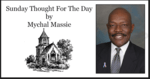 Christmas is upon us and we'll hear both Saint and sinner alike reference their love of God.  It is a fact!  God did love the "…world [so much] that He gave His only begotten Son, that whosoever believeth in Him should not perish, but have everlasting life." (John 3:16 KJV)
Yes, God did love all mankind and He still does.  But the mistake many people make is they believe that God suspended His hatred of sin in showing His love by giving us a Savior.  Therein is the great error many tragically make.  They are blind to the fact that with God's love, there is also God's divine retribution.
If we accept Christ as our Savior (John 3:16 KJV), Christ has taken upon Himself the punishment we deserve for our sins.  However, if we reject God's way of Salvation, we condemn ourselves to personally pay the punishment for our sins, which is total separation from God in unquantifiable torment and suffering without end.
False teachers, and those who deceive themselves believing they've established their own manner of "goodness" that God will accept, ignore the literal hell that awaits them.  This is a great deception and the eternal ramifications associated with same should be too great of a penalty to risk.
Those who occupy pulpits this Christmas, would do well to consider if they are truly saved or if they are deceiving themselves.  The punishment for those who lead the children of God astray is indescribable. (Matthew 18:6-11 KJV)
Persons attending church this special Christmas season should take time to pray and make sure that they are truly saved.  Making certain of our salvation is imperative.  The price for being wrong is too great to consider.  This Christmas we can agree that God is in fact love; but His being love does not mean He suspends His sinless nature, His hatred for sin, and the price we must pay ourselves if we reject God's love through Jesus Christ.  There will be no exceptions and no do-overs.
READ: 1 John 1:3-2:4 KJV
3 That which we have seen and heard declare we unto you, that ye also may have fellowship with us: and truly our fellowship is with the Father, and with his Son Jesus Christ.
4 And these things write we unto you, that your joy may be full.
5 This then is the message which we have heard of him, and declare unto you, that God is light, and in him is no darkness at all.
6 If we say that we have fellowship with him, and walk in darkness, we lie, and do not the truth:
7 But if we walk in the light, as he is in the light, we have fellowship one with another, and the blood of Jesus Christ his Son cleanseth us from all sin.
8 If we say that we have no sin, we deceive ourselves, and the truth is not in us.
9 If we confess our sins, he is faithful and just to forgive us our sins, and to cleanse us from all unrighteousness.
10 If we say that we have not sinned, we make him a liar, and his word is not in us.
2 My little children, these things write I unto you, that ye sin not. And if any man sin, we have an advocate with the Father, Jesus Christ the righteous:
2 And he is the propitiation for our sins: and not for ours only, but also for the sins of the whole world.
3 And hereby we do know that we know him, if we keep his commandments.
4 He that saith, I know him, and keepeth not his commandments, is a liar, and the truth is not in him.
About the Author
Mychal S. Massie is an ordained minister who spent 13 years in full-time Christian Ministry. Today he serves as founder and Chairman of the Racial Policy Center (RPC), a think tank he officially founded in September 2015. RPC advocates for a colorblind society. He was founder and president of the non-profit "In His Name Ministries." He is the former National Chairman of a conservative Capitol Hill think tank; and a former member of the think tank National Center for Public Policy Research. Read entire bio here