God's Abiding Presence – Sunday Thought For The Day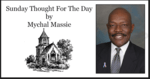 Yesterday morning I was paging through the Book of Numbers skimming verses, when something caught my attention; for no particular reason after the book of Numbers I turned to 2 Samuel and continued skimming verses, when once again something caught my attention.
I often just page through my bible reading verses with no specific pursuit or study in mind, but just because I love reading through God's Word: revisiting old study notes I've written in the margins, verses I've underlined, notes I've made for sermons, and the like.  My personal bible study has had me in the Book of the Acts for over four months now; but this wasn't personal study, it was just the causal random reading that so blesses my soul, especially when the Spirit points something out that is quite unexpected.
Now, let me say that I have read and studied Numbers, and 2 Samuel as part of my personal study and/or my daily devotions more times than I can recall.  But yesterday morning the words contained in both Books caught my attention in a special way.
In Numbers I suddenly noticed the number of times we read: "And the Lord spoke unto Moses saying…; "And the Lord said unto Moses."  I felt a deep stirring in my Spirit as I was given a powerful reminder that God is personable and conversant.  He does not call us to service and then abandon us to figure things out for ourselves.  He instructs us and guides us every step of the way.  And, I tell you with the greatest of confidence that our God does this n0t just for those He has called to serve Him in ministry or in great endeavor.  He does this for all who are truly His children through the new birth and who have as their desire to walk in obedience with Him.
The assurance and confidence in God's abiding and personal presence in my/our lives stirred my Spirit.  I had not forgotten nor abandoned my knowledge of God's presence.  But, it was the being reminded of same in that moment, that moved my Spirit to leap within my being.
I experienced the same as I skimmed through 2 Samuel only moments later, and took note of the number of times the writer records: "And it came to pass…"
I was moved to awe as I realized anew and afresh in that moment, God is universally faithful in keeping that, which He has promised and/or ordained.
My friends, as you read this I encourage you to remember afresh that our God never fails and our God is ever actively present working in our lives through the power and presence of the indwelling Holy Spirit.  I pray this brings you the joy and blessed assurance that I was reminded yesterday morning was mine.
It's not that we forget these truths, albeit some have; it's that in reminding us in moments not expected it's like a visit or phone call from a close loved one, who even though we have just spoken, they give us a passionate unexpected "I love you, I appreciate you, I'm praying for you or I'm glad to call you my friend" that moves us, because the feeling of their truly loving us is so palpable.
Oh blessed God, we praise your name and say thank you Jesus.
READ:
Jeremiah 31:3 KJV
3 The Lord hath appeared of old unto me, saying, Yea, I have loved thee with an everlasting love: therefore with lovingkindness have I drawn thee.
Psalm 36:7-10 KJV
7 How excellent is thy lovingkindness, O God! therefore the children of men put their trust under the shadow of thy wings.
8 They shall be abundantly satisfied with the fatness of thy house; and thou shalt make them drink of the river of thy pleasures.
9 For with thee is the fountain of life: in thy light shall we see light.
10 O continue thy lovingkindness unto them that know thee; and thy righteousness to the upright in heart.
Romans 8:35-37 KJV
35 Who shall separate us from the love of Christ? shall tribulation, or distress, or persecution, or famine, or nakedness, or peril, or sword?
36 As it is written, For thy sake we are killed all the day long; we are accounted as sheep for the slaughter.
37 Nay, in all these things we are more than conquerors through him that loved us.
About the Author
Mychal S. Massie is an ordained minister who spent 13 years in full-time Christian Ministry. Today he serves as founder and Chairman of the Racial Policy Center (RPC), a think tank he officially founded in September 2015. RPC advocates for a colorblind society. He was founder and president of the non-profit "In His Name Ministries." He is the former National Chairman of a conservative Capitol Hill think tank; and a former member of the think tank National Center for Public Policy Research. Read entire bio here