God's Love Doesn't Bless Sin – Sunday Thought For The Day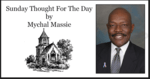 We hear "God is love" in every context from homosexuality to shaming people into financially underwriting facilities that reward bad behavior to marital infidelity.
Tragically, what so many today refuse to understand, is that God's love is shown by providing a plan of Salvation.  His love was shown through the sacrificial death of Christ on the cross as the atonement for our sins and the only way to be reconciled to Him.  God is love, but His love doesn't approve of sin.  That's an abomination from the pit of hell, spread by blasphemers.
God's love does not permit n0r condone practicing sin.  So often we hear people attempt to justify the sin of same-sex marriage by claiming it's not wrong because the persons committing (such sin) are in love and "God is love?"
God's love was/is shown in the form of Jesus Christ – His only begotten Son.  God's love provides for us to confess our sinful unworthiness and repent.  God's love gave us Jesus Christ, who bore our sins upon the cross as the only acceptable means by which we can spend eternity in Heaven.
It both pains my heart and also stirs outrage within me, as I witness churches embracing degenerate apostate behavior, and that certainly includes homosexuality and abortion.  God's love isn't a permission slip to continue living in sin.  God's love is a lifeline for forgiveness and repentance, not the continued purposeful practice of wanton sinfulness.
The next time someone tells you that wanton sinful disobedience is really an expression of love, tell them they aren't defining love; they're defining the guarantee of eternal damnation.
God's love doesn't condone sin.  God's love provides the means to be forgiven our sin and for us to repent and discontinue remaining a slave to sin.
READ: 1 John 3:1-12 KJV
1 Behold, what manner of love the Father hath bestowed upon us, that we should be called the sons of God: therefore the world knoweth us not, because it knew him not.
2 Beloved, now are we the sons of God, and it doth not yet appear what we shall be: but we know that, when he shall appear, we shall be like him; for we shall see him as he is.
3 And every man that hath this hope in him purifieth himself, even as he is pure.
4 Whosoever committeth sin transgresseth also the law: for sin is the transgression of the law.
5 And ye know that he was manifested to take away our sins; and in him is no sin.
6 Whosoever abideth in him sinneth not: whosoever sinneth hath not seen him, neither known him.
7 Little children, let no man deceive you: he that doeth righteousness is righteous, even as he is righteous.
8 He that committeth sin is of the devil; for the devil sinneth from the beginning. For this purpose the Son of God was manifested, that he might destroy the works of the devil.
9 Whosoever is born of God doth not commit sin; for his seed remaineth in him: and he cannot sin, because he is born of God.
10 In this the children of God are manifest, and the children of the devil: whosoever doeth not righteousness is not of God, neither he that loveth not his brother.
11 For this is the message that ye heard from the beginning, that we should love one another.
12 Not as Cain, who was of that wicked one, and slew his brother. And wherefore slew he him? Because his own works were evil, and his brother's righteous.
About the Author
Mychal S. Massie is an ordained minister who spent 13 years in full-time Christian Ministry. Today he serves as founder and Chairman of the Racial Policy Center (RPC), a think tank he officially founded in September 2015. RPC advocates for a colorblind society. He was founder and president of the non-profit "In His Name Ministries." He is the former National Chairman of a conservative Capitol Hill think tank; and a former member of the think tank National Center for Public Policy Research. Read entire bio here