God's Word Is Truth – Sunday Thought For The Day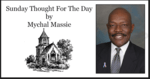 The question I challenge you with today is twofold.  If you are a Christian: 1) Do you believe every word of the Bible is true; 2) If you said yes, what does that mean to you?
God's Word tells us: "All scripture is given by the inspiration of of God, and is profitable for doctrine, for reproof, for correction, for instruction in righteousness." (2 Timothy 3:16 KJV)
Every word of God is by virtue of Himself, true.  The Holy Spirit is the third person of the Trinity.  The Apostle Paul was making a dogmatic statement that courses through the veins of scripture starting with the first verse of Genesis.  Said being, that every Word of Scripture was written under the infallible inspiration of God the Holy Spirit, i.e., it is God-breathed.  Thus no portion of scripture is untrue nor can it be. (Allowing we are reading the legitimate version of scripture.)
However, this is where Satan and his minions enter into play.  This is a difficult thing for many believers in Christ to grasp.  Scripture says: "God said" and "Thus sayeth the Lord."  The Word of God was not written as "impermanent; existing, persisting, or enduring for a limited time only, i.e., finite.  The Word of God is immutable forever. (See: Psalm 119:89 KJV)
This is authenticated by Christ Himself when He said to Satan "It is written."   How could the Son of God who was without sin say something that wasn't true?  If all scripture weren't true, Jesus would have been lying when He said, "it is written" because he concluded His statement with: "…Man shall…live…by every Word that proceedeth out of the mouth of God." (Matthew 4:4 KJV)
The first being in scripture to question God's Word was the serpent when he entered the Garden of Eden and asked: "…hath God said?" (Genesis 3:1 KJV)  And man has been responding to temptation with what we think instead of what God's Word specifically says since.  Those obedient to God do not question the truth or validity of God's Holy Word.  They embrace it as absolute truth.
One of Satan's great lies is cause doubt and unbelief of God's Word.  He deceives us into the pride of self-reasoning.  We determine based upon what "we think" juxtaposed to what God's Word says, e.g., same-sex marriage is okay because it's love.  Worse yet, we see nothing wrong with doing same.  Whether it be consciously or unconsciously doesn't matter.  If we are truly born-again children of God the Holy Spirit dwells in us and leads us into all truth.  That also means He convicts us of untruth, which eliminates the idea of not knowing, if our desire is to walk in obedience to God.
Which brings me to the second part of my twofold question: if you say you believe every Word of the Bible is true, what exactly does that mean to you?  The bottomline is: If we do not believe every Word of God is absolute truth, we cannot do the Word of God, which means we are living in the sin of deciding our own righteousness.
READ
2 Timothy 3:16-17 KJV
16 All scripture is given by inspiration of God, and is profitable for doctrine, for reproof, for correction, for instruction in righteousness:
17 That the man of God may be perfect, thoroughly furnished unto all good works.
James 1:22-25 KJV
22 But be ye doers of the word, and not hearers only, deceiving your own selves.
23 For if any be a hearer of the word, and not a doer, he is like unto a man beholding his natural face in a glass:
24 For he beholdeth himself, and goeth his way, and straightway forgetteth what manner of man he was.
25 But whoso looketh into the perfect law of liberty, and continueth therein, he being not a forgetful hearer, but a doer of the work, this man shall be blessed in his deed.
About the Author
Mychal S. Massie is an ordained minister who spent 13 years in full-time Christian Ministry. Today he serves as founder and Chairman of the Racial Policy Center (RPC), a think tank he officially founded in September 2015. RPC advocates for a colorblind society. He was founder and president of the non-profit "In His Name Ministries." He is the former National Chairman of a conservative Capitol Hill think tank; and a former member of the think tank National Center for Public Policy Research. Read entire bio here