Grace – Sunday Thought For The day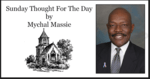 For my birthday, my wife got me a card that had the scripture verse Philippians 1:7, which read: "Even as it is meet for me to think this of you all, because I have you in my heart; inasmuch as both in my bonds, and in the defence and confirmation of the gospel, ye all are partakers of my grace." (KJV)
It is the very end of that verse, "ye all are partakers of my grace," that touched my heart and brought to my mind something that I had not quite considered in the same way before.
God's "grace" is best defined as: "The receipt of favor we do not deserve." Or as Justin Holcomb put it: "Grace is getting what you don't deserve."
I know what a wretched person I was before I accepted Christ into my life. Even worst, I know what a terrible person I have been at times during my walk with Christ. But God's "grace" was and is sufficient. He didn't give me what I deserved. Instead the Holy Spirit convicted me that led me to repentance. He didn't crush me. He hasn't shrouded me in endless guilt and shame. His grace was loving, but firm and consistent.
Don't get me wrong. I have always had special feelings for my wife. But the grace that God showed her, I am a participant in, because through my matchless love for Him, I love her in a way that I could not if it weren't for the love that He has shown me through His "grace."
When I look at her, I see the unwarranted love of God. She loves me despite all of my many warts and blemishes. In this lifetime I will never be perfect, but I will always be loved by her.
That is the "grace" of God in the lives of those who have accepted Christ as their Savior. In this lifetime we will never be perfect, but we will always be loved by God. The question is, will we accept His love?
READ:Romans 3:22-26 (KJV)
22 Even the righteousness of God which is by faith of Jesus Christ unto all and upon all them that believe: for there is no difference:
23 For all have sinned, and come short of the glory of God;
24 Being justified freely by his grace through the redemption that is in Christ Jesus:
25 Whom God hath set forth to be a propitiation through faith in his blood, to declare his righteousness for the remission of sins that are past, through the forbearance of God;
26 To declare, I say, at this time his righteousness: that he might be just, and the justifier of him which believeth in Jesus.
About the Author
Mychal S. Massie is an ordained minister who spent 13 years in full-time Christian Ministry. Today he serves as founder and Chairman of the Racial Policy Center (RPC), a think tank he officially founded in September 2015. RPC advocates for a colorblind society. He was founder and president of the non-profit "In His Name Ministries." He is the former National Chairman of a conservative Capitol Hill think tank; and a former member of the think tank National Center for Public Policy Research. Read entire bio here