Growth Through Adversity – Sunday Thought For The Day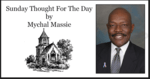 Based upon my life since the beginning of this year, there are those who would opine how bad I've had it, but nothing could be further from the truth.  January 6, of this year I came down with what amounted to a mild seasonal flu named covid, which lasted a couple days.  After a quick recovery from covid I came down with the granddaddy of sinus infections followed by other health concerns, the most recent requiring a five day hospital stay this past week.
With the aforementioned as a backdrop, I reminded my wife and our son of what I had said to a member of our of church, who last month had gone through having both of his precious little girls hospitalized back-to-back.  I had said to him, it's not how God had seen him through, but it was what God had done in him – which brings me to my point today.
As we mature, men and women of true Christian faith realize: when God has visited us with some form of adversity and He brings us through that adversity – it is as if He has increased the strength of the foundation of our life and our faith in Him.
Our faith is strengthened and shaped in the midst of adversity.  It's in the midst of adversity that we learn to trust the Lord more.  From my hospital bed, I reminded my family that God had never abandoned us.  He has seen us through every difficult circumstance in ways we had not imagined.
This is why we're to give thanks to God for all things and in all circumstances.  God uses adversity to grow and mature us.  It's tantamount to lifting wights to build muscles.  We don't grow strong muscles lifting two-pound dumbbells.  Lifting heavier weights makes us strong, but it takes the pain of repetition to make the gain.  Notwithstanding, even though we have developed muscles it takes lifting a weight we haven't lifted before to be confident we can do it again.  Such is our walk in faith and the growing of our faith.  We have the assurance that God will bring us through all adversity, because we've placed our faith in Him to bring us through before.
READ:
2 Corinthians 1:2-11 KJV
2 Grace be to you and peace from God our Father, and from the Lord Jesus Christ.
3 Blessed be God, even the Father of our Lord Jesus Christ, the Father of mercies, and the God of all comfort;
4 Who comforteth us in all our tribulation, that we may be able to comfort them which are in any trouble, by the comfort wherewith we ourselves are comforted of God.
5 For as the sufferings of Christ abound in us, so our consolation also aboundeth by Christ.
6 And whether we be afflicted, it is for your consolation and salvation, which is effectual in the enduring of the same sufferings which we also suffer: or whether we be comforted, it is for your consolation and salvation.
7 And our hope of you is stedfast, knowing, that as ye are partakers of the sufferings, so shall ye be also of the consolation.
8 For we would not, brethren, have you ignorant of our trouble which came to us in Asia, that we were pressed out of measure, above strength, insomuch that we despaired even of life:
9 But we had the sentence of death in ourselves, that we should not trust in ourselves, but in God which raiseth the dead:
10 Who delivered us from so great a death, and doth deliver: in whom we trust that he will yet deliver us;
11 Ye also helping together by prayer for us, that for the gift bestowed upon us by the means of many persons thanks may be given by many on our behalf.
About the Author
Mychal S. Massie is an ordained minister who spent 13 years in full-time Christian Ministry. Today he serves as founder and Chairman of the Racial Policy Center (RPC), a think tank he officially founded in September 2015. RPC advocates for a colorblind society. He was founder and president of the non-profit "In His Name Ministries." He is the former National Chairman of a conservative Capitol Hill think tank; and a former member of the think tank National Center for Public Policy Research. Read entire bio here